NCCWSL offers skill-building workshops and educational panels that are designed to challenge and inspire you to make an impact on your campus and in your community long after you leave the conference.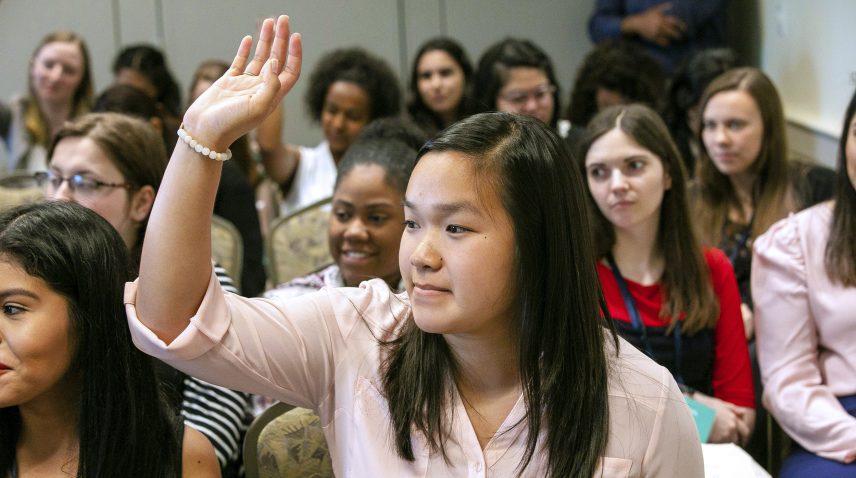 LOVE THE DIVERSITY on the panels. There were so many women from different walks of life, and it was empowering.

—2021 NCCWSL attendee
2023 NCCWSL Agenda Coming Soon!
See what went down at last year's conference.
---
---
Workshops & Panels
Programming will center on the following learning objectives:
Leadership development: Develop and strengthen a leadership narrative through voice, skill set and mind-set.
Professional development: Build a professional tool kit for postgraduate life.
Activism: Know the how, why and when to take action and be a change maker.
Women's issues: Gain a better understanding of issues and policies affecting women locally, nationally and globally.
Identity and diversity: Own one's personal identity and role in increasing and supporting diverse voices.
2022 Agenda
The Collegiate Women's Guide to Conscious Careers
Learning Objective: Professional Development
Workshop Presenter: Chelsea Williams
Consciousness is defined as being aware of—and sensitive to—something or someone. Given the heightened consciousness about social justice, sustainability and work-life balance, many students want to make career decisions that align with their values and beliefs. This highly engaging session is designed to empower young women to take charge of their careers by asking probing questions and making intentional decisions about prospective jobs. Learn how to pursue a conscious career by committing to three essentials: self-awareness, life-long learning and accountability.
Community Matters: Cultivating Civic Engagement in the 21st Century
Learning Objective: Activism
Moderator: Robin Lucas
Panelists: Angela Clark-Taylor and Guadalupe González
A strong democracy requires an informed citizenry. In this panel, we will discuss what civic engagement looks like in today's world—both inside and outside of the classroom. As social and political discourse moves more online, we will hear from a diverse panel of experts on how civic engagement might be reimagined for the 21st century electorate.
Financial Literacy – Smart Budget. Smart Finances. Smart Future.
Learning Objective: Women's Issues
Moderator: Andrea Martinez
Panelists: Geri Walsh and Katrina Malone
Women are less likely to talk about finances, think strategically about money and invest in the markets. It's time for that to change! This panel brings together leading voices in the world of wealth creation to break down taboos around money, budgets and financial plans—and to highlight ways to get involved as an investor so you can grow your personal wealth.
2022 Agenda
Empowering Your Personal Brand
Learning Objective: Identity and Diversity
Workshop Presenter: Sarah Barr
This conversation/demonstration will include tips and techniques to help you present your best self, both virtually and in real life. The tools you'll acquire will be invaluable to anyone who is interviewing for jobs, leading teams or making presentations.
AAUW Start Smart Salary Negotiation Training
Learning Objective: Professional Development
Workshop Presenter: Andrea Martinez
Learn how to research your target salary, highlight your accomplishments and find the right words—and confidence—to negotiate for better benefits and pay. Negotiating increases your potential to earn more and can make the difference for paying off loans, buying what you want and need, and saving for the future.
Mentorship vs. Coaching
Learning Objective: Leadership Development
Moderator: Dr. Sau-Fong Au
Panelists: Darlen Taylor and Tressa Lacy
Sometimes people use the words "mentoring" and "coaching" interchangeably, but they do not describe the same type of working relationship. Both share specific goals (including learning and career development) that lead to peak performance and realizing your full potential. Join our panel in a conversation about the differences between the two, and finding the best fit for you.
Navigating Employment in a Pandemic
Learning Objective: Professional Development
Moderator: Mary Gata
Panelists: Je'Nen Chastain and Michon Pinnix
Are you interested in a job where you can work from home most or at least some of the time? Post-pandemic, more employers are offering options such as a fully remote or a "hybrid" work environment. Learn how companies are setting policies and what employees can expect in terms of potential arrangements. This panel will discuss the evolving job market, trends in 2022 and what you can do to optimize your chance of finding a job environment that works best for you.
2022 Agenda
More Voices, Less Polarity: Beyond Diversity and Inclusion
Learning Objective: Identity and Diversity
Workshop Presenter: Grace Virtue
Diversity and Inclusion (D&I) is an increasingly popular framework for examining discrimination, inequities and social exclusion. It focuses on the need to disrupt old paradigms, respect differences and promote more equitable and inclusive spaces. Although intended to address all sorts of structural oppression, D&I often appears as mostly driven by Black people opposing racism and perceived as a racial issue. As a result, the concept can feel polarizing. Furthermore, it pays insufficient attention to other issues of power and powerlessness, which affect people across these divides. The D&I model, developed by Grace Virtue, Ph.D., is intended to decrease the polarization, invite more voices and more effectively reflect a multicultural and multifocal path to social justice.
Women and Confidence
Learning Objective: Women's Issues
Workshop Presenter: Kimberly Dickman
Is there a confidence gap between men and women? Maybe not! Research shows that women have confidence—but sometimes are hesitant to be self-promotional and often worry that doing so may lead to backlash. This session explores the history of systemic barriers to women's success—and offers experiential ways we can lift up ourselves—and other women.
College Student Women Leaders and Campus Activism (Student Panel)
Learning Objective: Activism
Moderator: John Lester
Panelists: Tyler Hampton, Teresa Lebowitz and Adrianna Lora
Student leadership and activism are crucial parts of campus life—and we need to recognize how powerful they can be. If you are tired of being sick and tired and ready to make some changes, now it the moment to get involved. Learn how students across the nation bring positive change to their campus.
The Future of Work: Artificial Intelligence, Jobs and Skills
Learning Objective: Professional Development
Moderator: Shehla Yamani
Panelists: Chasity Crawley
The future of work is being shaped by two powerful forces: The growing adoption of artificial intelligence in the workplace, and the expansion of the workforce to include contractors and freelancers. Hear what's in store for the workplace, the workforce and the nature of work itself in the 21st century at this panel.
2022 Agenda
Claim Your Power: Empowerment Self-Defense
Learning Objective: Leadership Development
Workshop Presenter: Lauren Taylor
Feel your power! Empowerment Self-Defense is an effective approach to preventing, stopping and healing from all levels of assault and violence—from macroaggressions to full-on attacks. Whether you're being harassed at work, school or on the street; want to set limits with family members or friends; or need to stop someone who's violating your physical boundaries, you will learn valuable skills to make that happen. Empowerment Self-Defense places violence in a social context, shifts responsibility from the victims to the perpetrator, empowers survivors and offers a comprehensive toolbox of verbal and physical strategies that anyone can master. You don't have to be physically strong to claim your power, and people of all abilities are welcome. This intensive workshop is highly interactive and engaging, featuring movement, discussion, small-group exercises and role playing.
Voice Activation: Speak Truth to Power
Learning Objective: Leadership Development
Workshop Presenter: Jaemi Serene
SheLeadsHer is hosting a workshop on Voice Activation: Speaking Truth to Power. In this session, you will learn about various types of power dynamics in the workplace, while unearthing your personal power for dealing with them. This workshop is designed for young women in the early stages of their career. It will help you discover how to become powerful in your own right—in a way that is authentic and meaningful to you. Find out how to set boundaries, identify your own strengths and use your voice to assert your power!
The Road to Graduate School: Before, During and After
Learning Objective: Professional Development
Moderator: Sandra Hampton
Panelists: Emily Liverman and Caitlyn Cardetti
Are you curious about graduate studies? Join us as we explore the pathways of post-secondary education through the lens of folks you are certain to encounter along your educational journey. Panelists will explore all aspects of the graduate school experience—from deciding if graduate school is right for you to making the most of an advanced degree—and everything in between.
Entrepreneurship: Social Media Influencers… Big Business
Learning Objective: Professional Development
Moderator: Nicole Lewis
Panelists: Dasha Kenndy and Débora Silva
We all know the earning power of influencers and entrepreneurs! One pitches a product to social media followers and the other pitches a product or a service to potential customers. So here is something to consider: Are influencers entrepreneurs? Are entrepreneurs influencers? Join our panel to learn the similarities and differences and to hear how both groups can know their value and get paid what they're worth.
2022 Agenda
Put Your Big Girl Pants On – and Other Power Moves to Increase Influence
Learning Objective: Professional Development
Workshop Presenter: Meg Bucaro Wojtas
We spend most of our days communicating with others. This program examines everyday situations and empowers women to show up with purpose and power through influential communication behavior.
Elect Her
Learning Objective: Leadership Development
Workshop Presenter: Sara Blanco
Running for elected office is a great way to make a difference! This session will help you explore the possibilities of seeking a role in student government—and beyond. (Even if you're not sure if this is for you, you'll learn useful skills and practices for any leadership opportunity.) Student government is the perfect place to get started: More than 50% of women in state legislators and in Congress started out as student leaders. Or you can run for public office immediately, like Howard University alum Allyson Carpenter, who is the youngest-ever elected official in Washington, DC. In this workshop, you'll discover all you have to contribute, and you'll learn such skills as strategic planning, powerful presentation, effective messaging and more. You will connect with other civic-minded peers and get a head start on your path to becoming a public official!
Finding the Right Career for You
Learning Objective: Professional Development
Moderator: Patricia Sais
Panelist: Kim Bohince and Nechari Riley
Choosing the right career path can be daunting. How do you identify the best job opportunities? How do you know if you'd prefer a career in civil service, the nonprofit arena, academia or the corporate world? There's no easy answer: About 75% of Americans have changed careers at least once, and 33% are currently thinking about it. But rest assured that discovering a satisfying career path is possible! Join the discussion and get inspired!
STEM Half-day Session
No matter what career you hope to pursue, being innovative is a crucial skill in this workplace. In fact, innovation and creativity can serve you well in all areas of your life! If you'd like to cultivate these talents, sign up for our STEM half-day session. You'll learn new techniques for problem-solving, consensus-building and other people-focused strategies that spell success.
Check out who spoke last year!
2022 Opening Speaker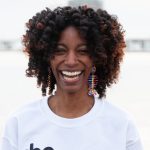 Symone Barkley (she/her)
Owner, Scientist Symone Services, LLC
Environmental Educator, NAAEE EE 30 Under 30
Chief Learning Officer, Black In Marine Science
Symone (she/her) is a Baltimore-born scientist and educator who has had a wide range of experiences in the marine science field. Symone has studied algae, blue crabs, sand tigers and sandbar sharks over the years in undergrad and graduate school. Symone is a member of NAAEE's Environmental Education 30 Under 30 program. She launched A Peace of Nature STEM kits for young people, which equip traditionally excluded communities with knowledge and resources to act sustainably in their everyday lives and advocate for sustainable behavior in their communities. The STEM kits also include engaging hands-on learning activities and encourage literacy in young audiences.
2022 Presenter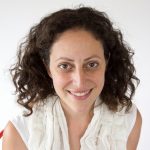 Ela Ben-Ur
Founder, Innovators' Compass
Academic Partner, Olin College
Website: innovatorscompass.org
Twitter: @elabenur
Ela Ben-Ur has worked and co-experimented deeply with organizations and educators interested in design thinking since 2012. The focus of her present experimentation is Innovators' Compass: Five questions that move us forward, distilled from many different practices, which have been used from preschools to global conferences and rural communities. 
Ela has taught courses from product design to life design at pioneering Olin College since 2007. She has offered workshops and keynotes through MIT (her alma mater), Sloan, Babson, Dartmouth and Harvard, and at venues from SXSW EDU to the National Science Teachers' Association, New England Association of Schools and Conferences, AIGA, International Development Design Summit, Front End of Innovation and US Conference on AIDS. 
To submit a workshop proposal for NCCWSL 2023, please click the button below!
Related