Attend NCCWSL
2024
AAUW invites hundreds of college women from around the country for three days of leadership training, inspiration and networking at our National Conference for College Women Student Leaders (NCCWSL).
NCCWSL 2024
Information to come in October.
STEM Half-Day Workshop
New last year is an engaging half-day STEM workshop for all students pursuing an education and career in STEM or any STEM related major. Through collaboration and networking opportunities, panel discussions, interactive demonstrations, and forward-thinking activities, attendees learned about their own resiliency and value in the STEM community. They meet other women on similar paths, heard from peers and established professionals, explored innovative spaces on campus, and prepared for the exciting journey ahead! 
---
What is NCCWSL?
AAUW's annual conference, The National Conference for College Women Student Leaders (NCCWSL), brings together more than 800 young women from around the country for two and a half days of leadership training, networking and inspiration. This year's event will include sessions on career development, mentorship, financial literacy, racial-justice activism and more. Participants will have an opportunity to explore post-graduate programs, careers in a variety of disciplines (especially STEM) and other opportunities for their future.
Who Attends NCCWSL?
NCCWSL attracts a diverse group of young leaders who are highly engaged on their campuses: They are involved in student government, academic and pre-professional organizations, identity-based and social-justice clubs and political activism. One in four is majoring in the STEM fields; other popular majors include business and the social sciences. Most are rising juniors or seniors, who are at a pivotal point as they explore their next steps after graduation. The young women represent the rich diversity of their generation.
NCCWSL By the Numbers
Roughly 50% of NCCWSL attendees are women of color. Many are first-generation college students.
1 in 4 NCCWSL attendees major in the STEM fields, followed by majors in business and the social sciences.
Nearly 500 colleges from 48 states have sent campus leaders to NCCWSL.
---
Scholarship Information
Each year AAUW National provides full and partial scholarships to those who wish to attend NCCWSL but encounter financial hardship. NCCWSL will provide more information here as we move closer to the conference in 2024. 
NCCWSL: It's the Place to Be!
NCCWSL has students from all over. In 2019, the conference was attended by 800 students from over 300 colleges and 48 states!
Faces of AAUW
Energized
Thank you for an incredible two days! This energized me so much. I was feeling a bit lost on my next steps leading up to the conference and the energy of the presenters and fellow attendees really got me focused and hyped!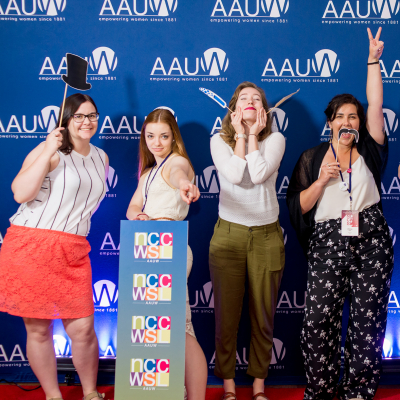 Related