As you start packing and preparing for the conference, here are five NCCWSL must-haves and a packing checklist to keep in mind.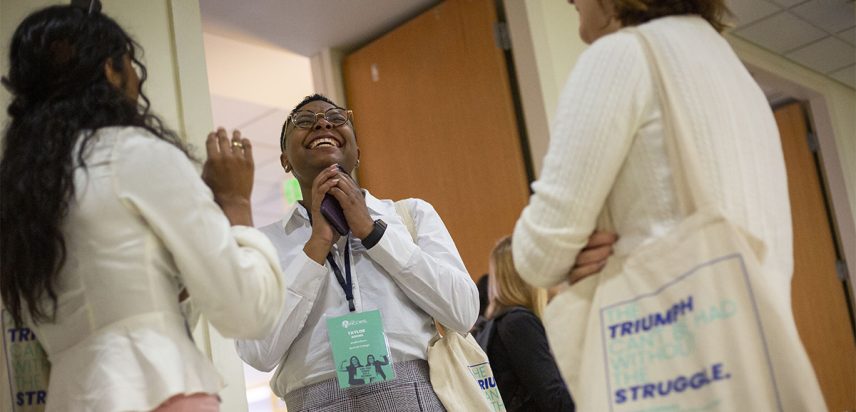 Business casual attire and some casual wear
We recommend business casual clothing for the conference itself. Avoid jeans except for the more casual activities.
A nice outfit for the Women of Distinction Awards
For the Women of Distinction Awards

, you'll want to dress more formally. It's a special evening, and you'll be meeting and networking with the Women of Distinction. We recommend semi-formal or cocktail attire.

Your best social media game
Make you mark! Use hashtag #NCCWSL23 and tag us on Twitter and Instagram. We're on Twitter at @AAUW

 and on Instagram at 

@aauwnational

. When you arrive on campus,

download the Guidebook app and search "National Conference for College Women Student Leaders" to get a head start on personalizing your conference schedule.
Your elevator speech
You never know who you'll meet at NCCWSL. So know what you're going to say to sell yourself or your project. Get tips for preparing you elevator speech.
Packing Checklist

To wear:
Comfortable shoes (it's a 10–15 minute walk between the dorms and the conference sessions)
Business casual outfits for conference days
A nice outfit for the Women of Distinction Ceremony (dressier than workshop outfits)
Comfortable clothes or athletic attire for Saturday morning yoga
For your stay:
Bathrobe
Shower shoes
Toiletries (anything you would pack to shower at school)
A blanket if you get cold easily (bed linens, a light blanket, a pillow and a towel will be provided)
For the conference in general:
Extra cash (for outside meals, spending money, and local transportation) — you can check the FAQ to see what is covered by your registration fee.
An umbrella
Pen and a notepad or laptop for taking notes
Return travel information (on your phone or a hard copy) so that you know how to get home!
We can't wait to meet you at see you at NCCWSL!
Related