June 2020
Resources, tips and tricks for AAUW state and branch leaders
Bragging on Branches
In these turbulent and uncertain times, so we are so grateful to branches that are still fundraising and supporting AAUW's mission. We want to give a special shout-out to the AAUW Honolulu (Hawaii) Branch for their recent gift of $15,000 to the Greatest Needs Fund. Unrestricted donations like this are vital for keeping AAUW relevant and responsive to emerging challenges.
We also want to share some of the inventive ways AAUW states and branches are fundraising in these times. AAUW of Texas challenged their members to become "Sister Suffragists," matching $100 for every member who contributed to the Greatest Needs Fund. To date they have raised $7,400 based on their members' support.
Many thanks as well to the following branches for their gifts of $5,000 or more to the Greatest Needs Fund in 2020: (California) Healdsburg, (Michigan) Midland, (Oregon) Ashland, (Washington) Walla Walla.
Kudos also to the following branches on their achievements in the Five-Star Recognition Program this month: (Alabama) Talladega County, (California) Healdsburg, Orinda-Moraga-Lafayette, (Illinois) Elmhurst Area, Wheaton-Glen Ellyn, (Maryland) Baltimore, (Missouri) Ballwin-Chesterfield, (Ohio) Bowling Green, (Oregon) Ashland, (Pennsylvania) North Hills Pittsburgh, Lansdale State College, (Virginia) Alexandria, Virginia Beach, (Wisconsin) Racine.
Finally, we'd like to extend a warm congratulations to AAUW Reston-Herndon Area (Virginia) AAUW Capital (Nevada) on being our latest branches to complete the program and on achieving their fourth star in our Five-Star Recognition Program. Congratulations on your tremendous achievements! Take a look at their success stories.
Secret of their Success: AAUW Reston Herndon Area (VA) Branch
The Five-Star Program gave The Reston-Herndon Branch a roadmap to deepen our engagement with the goals of our AAUW National Organization. When we first heard of the program, the leadership team met and decided to make "star status" a goal for the 2019-20 year following our celebration of our Branch's 50th anniversary. The variety of star areas allowed us to optimize the skills and interests of our members. Our Public Policy team has had the most regular contact with National through Lobby Corps – 10 members participated over the last year. We leveraged this knowledge to work with our program team on events that focused on gender equity and diversity in Virginia and were thrilled to celebrate our Commonwealth's passage of the ERA. The exciting programs and the outreach of the Membership team helped us attract and retain members. The switch to virtual activities has even enhanced member engagement. We have celebrated each star and all the members that made it possible."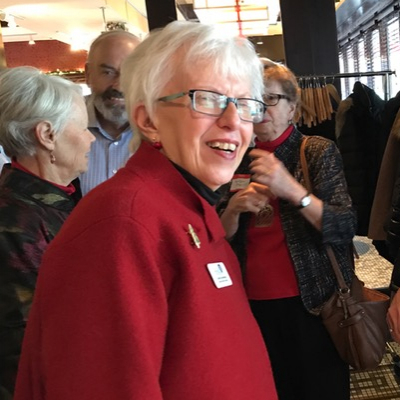 75 Years of Star Achievement: AAUW Capital (NV) Branch
Our branch had just celebrated 75 years of milestones and countless achievements in May 2019! Our board wondered: How can we capitalize on the amazing level of engagement shown by our members? Achieving the Five-Star recognition was the logical next step.

As we reviewed the criteria, we realized our branch was already fulfilling the requirements. Our branch's strategic plan was in sync with National's; our programs all focused on elements of AAUW's Public Policy; we actively promoted AAUW Work Smart, and we had just established a branch Twitter account.

Additionally, the proceeds of our fundraising activities supported AAUW National funding, local scholarships and other local non-profit collaborations. Finally, we re-focused our AAUW National support to benefit the Greatest Needs Fund by establishing an Honorary Fund in recognition of our long-time member and AAUW activist, Linda Hiebert Sekiguchi.

Suggestions: Review what you are doing, identify your alignments or what can you do differently that aligns with the requirements … and then DO IT!"Caroline Punches, president
News & Resources
National Board Town Hall
Thanks to everyone who was able to join our AAUW National Board of Directors' virtual town hall meeting last week! Your questions and feedback are vital to us, and we look forward to finding more opportunities to build our community together. If you missed it, no worries! All webinars in our 2020 convening series are recorded and saved on our website for your convenience. Be sure to watch The State of AAUW from CEO, Kim Churches as well.
Welcome New Legacy Circle Members
We gratefully acknowledge these visionary AAUW members and supporters who have recently joined the Legacy Circle: Fanny Behrens (Wisconsin), Joan E. Moeschberger (Wisconsin), and Hedda H. Smithson (California).
By making a planned gift to AAUW, each has embraced equity for future generations of women and girls. If you have included AAUW National in your estate plans, please contact AAUW Director of Advancement Heather Miller at 202.785.7766 to let us know so that we may celebrate you too!
Presidents Must Report All Leaders for Fiscal Year 2021
Keeping your officer's list current helps AAUW staff and member leaders communicate with you and ensures that all officers receive relevant communications. Current branch and state presidents (not those incoming) should report all officers for fiscal year 2021 in the Membership Services Database by June 30. States and branches with continuing leaders or pending elections must also report officers by this deadline to ensure that access rights to the MSD remain available.
AAUW Stands United Against Racism
AAUW joins the nation in mourning the losses of George Floyd, Breonna Taylor and countless other people of color who have been unjustly killed. Systemic racism is firmly rooted in the U.S. and today's injustices mirror our shameful history — from police brutality to the disproportionate impact of COVID-19 on communities of color. Our country needs healing. But healing will only come with justice. Read our complete statement.
Recent & Upcoming Events
Even if we can't come together in person right now, there's plenty happening at AAUW — and plenty of ways to connect.
Thursday, June 25

Time
Event
Location
4:00 PM - 5:00 PM

Webinar: Black Women Leading Through an Equity Lens

Join AAUW for a courageous conversation with Kimberly L. Sisnett, SVP, People at VERICAST; and Stephanie Jackson, Senior Business Resiliency Specialists Control Risk at Facebook to learn about their experiences, challenges and lessons learned in corporate leadership.
Recent Membership Matters Updates