April 2021
Resources, tips and tricks for AAUW state and branch leaders
Bragging on Branches (and States!)
Thank You Greatest Needs Givers
We want to thank AAUW Orinda-Moraga-Lafayette Branch for their recent contribution above $5,000 to AAUW's Greatest Needs Fund. Also, a big shout-out to AAUW San Francisco for their extraordinary gift of $15,000 to the Greatest Needs Fund. Contributions like these are critical to our work, and we could not be more grateful for the support of these branches and their members.
Meet Our Latest Five-Star Awardees
Join us in celebrating the following branches for their Five-Star Program achievement this month: (California) Humboldt; (Pennsylvania) Bethlehem, Easton, Lansdale; (New Mexico) Carlsbad; (South Carolina) Charleston; (Texas) San Antonio, Tyler; (Virginia) Suffolk; (Washington) Stanwood-Camano; (Wisconsin) Oshkosh.
These branches have gone above and beyond the call of duty, meeting all four criteria for the Advancement area of the program when they were only required to get two: (California) Orinda-Moraga Lafayette; (Texas) San Antonio, Tyler, (Wisconsin) Appleton and (Virginia) Springfield-Annandale. Kudos to them on their tremendous achievement!
Finally, a huge congratulations to the following branches for being the latest to achieve all five stars: (Colorado) Aurora; (Florida) Sarasota; (Virginia) Springfield-Annandale; (South Carolina) Charleston; (Washington) Stanwood-Camano. Read the success stories below to learn more about how the (Colorado) Aurora, (Florida) Sarasota, and (Virginia) Springfield-Annandale branches met their goals!
Success Stories
Get inspiration and advice from this month's five-star branch leaders.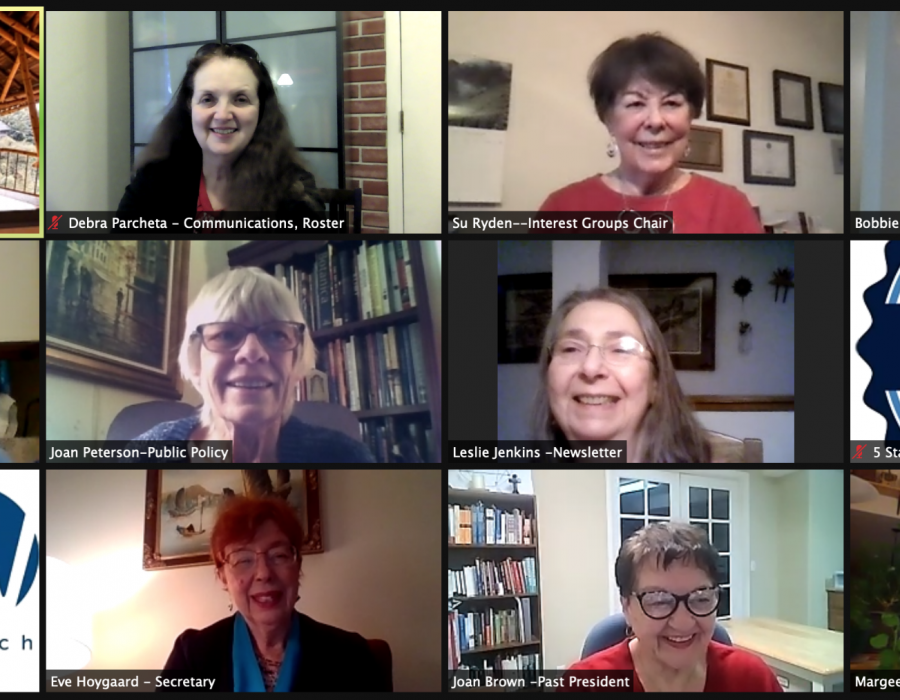 AAUW Aurora (Colorado)
Reaching the Peak
When our branch's board first discussed working to meet the 5-Star requirements, the goal seemed as challenging as climbing a "fourteener"—one of the 14,000+-foot mountain peaks here in Colorado. But putting the requirements into a formal work plan and assigning responsibilities made the climb achievable.
We have always concentrated on issues-based programing, so the first star (Programs) was a good warm-up for us. We nourished ourselves and those around us through our members' generosity in supporting the Greatest Needs Fund (Advancement). We checked our provisions by updating our website and Facebook to focus more on economic security and WorkSmart (Communications).
During the delightful next stretch of the climb, our Colorado Attorney General joined us to discuss the work needed to advance women's equity and civil rights and how we can help (Public Policy). Our final push to the peak was to align our strategic plan with National AAUW and document our succession plan (Governance and Sustainability).
Our journey up the 5-Star mountaintop was well worth it. We became the first Colorado branch to achieve this recognition. Having a detailed map to reach the peak was the game-changer. We have shared our work plan template with the other Colorado branches. Onward and upward!
—Carol Tobiassen, vice president of programs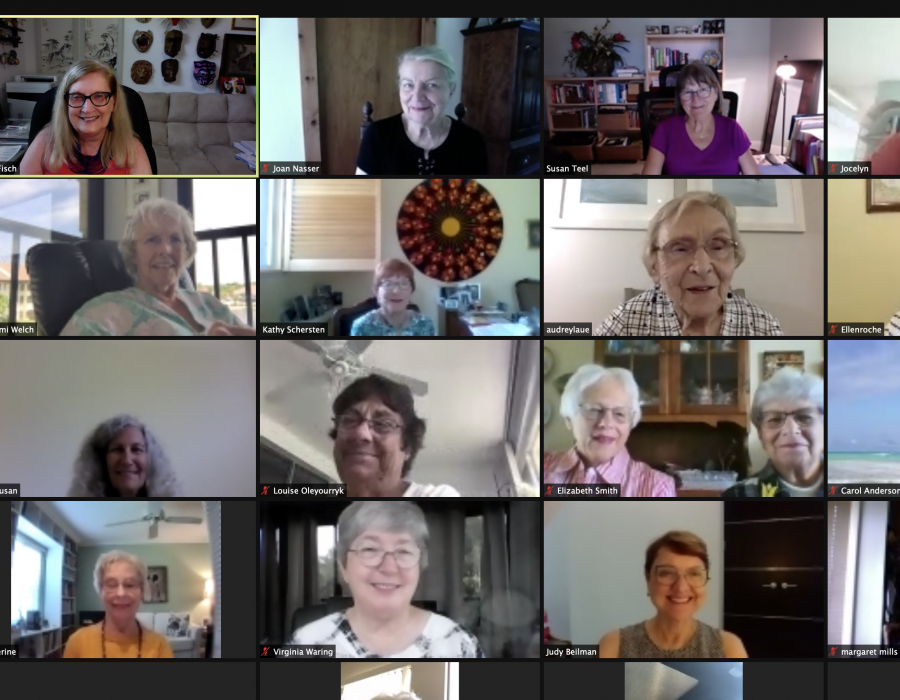 AAUW Sarasota (Florida)
Four Steps to Success
When our Sarasota Branch considered the Five-Star Program criteria, we were excited to see that we were already well on our way to earning those stars.
The Program motivated us to review how we were meeting National's benchmarks and where we were falling short. We took on one star at a time, so the task would not seem overwhelming.
We found that we had the first four stars covered already so we focused on the Governance and Sustainability star. That prompted us to update our strategic plan and to develop a clear sustainability plan. It was important that these plans represent the culture and interests of our entire membership, so we held Zoom focus groups to determine the goals we would work on for the next three years. Four new initiatives emerged to:
1) Develop outreach to encourage non-college-bound women to seek training in high-paying occupational/trade areas (plumbing, HVAC repair, electrical, etc.).
2) Develop a plan to fund and award one trade-school scholarship per year.
3) Partner with the Women's Resource Center to promote and provide opportunities for women and girls to achieve lifetime economic security.
4) Develop a plan to provide financial literacy training for senior women.
When we reviewed how we were meeting all the criteria, we realized that we are well-placed to continue our shared mission of advancing gender equity.
—Lois Fisch, president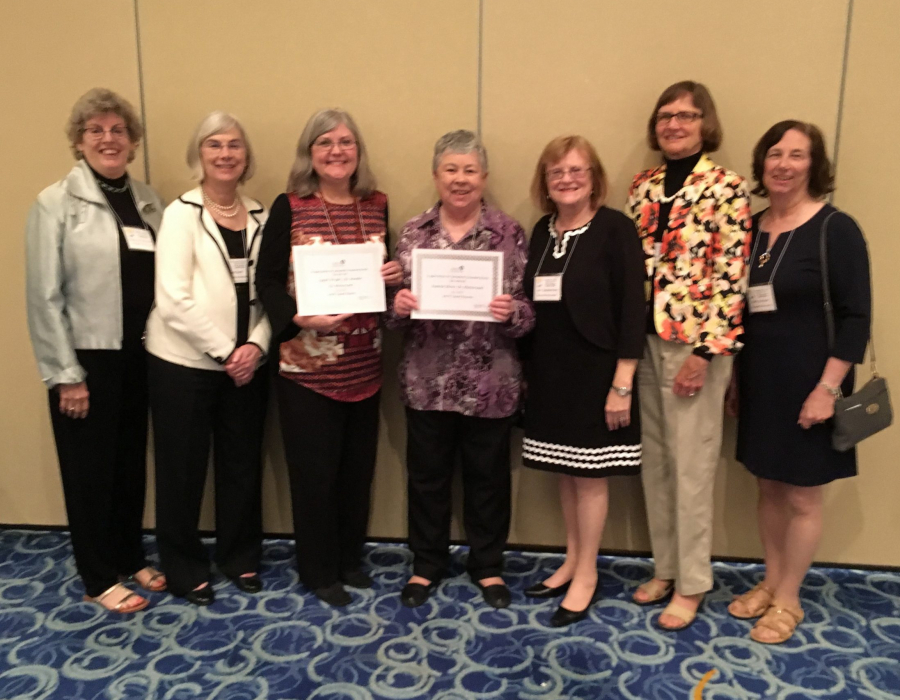 AAUW Springfield-Annadale (Virginia)
Plan Your Program
The Springfield/Annandale branch was inspired to work on the Five-Star program by Cheryl Sponholtz, AAUW Virginia's Vice President for Membership. She suggested our previous work already qualified us for a couple of stars, so we only had to focus on the rest.
We wrote a sustainability statement about our practices for ensuring quality service on the board of directors. As part of that, we brought in new people and stated our priorities in our strategic plan. We now have a guideline for the future.
We planned programs for the year around themes of addressing racism and empowering women, which often are combined. We looked at patterns of gender and racial inequity, which in some cases were eye- opening. Our work prepared us to overcome obstacles wherever we see them.
Our branch was generous to start, so increasing donations by another 25% was a stretch for us. But we got creative. Our Funds Chair made COVID masks for all members. During our fund drive, donors giving $100 or more were invited to a post-COVID luncheon. Still, we came up $1,300 short. That's when our membership stepped up and gave four times that amount for the Greatest Needs Fund.
We've found working toward the Five-Star Award a positive way to keep focused and vital during trying times."
―Carolyn Morris, president
News & Resources
Reminder: AAUW Needs YOU to Vote
Every voice matters in this AAUW National Election! Please take action today—and encourage your members to do the same. Voting closes on May 17, 2021, at 5:00 p.m. ET. If you hear from members who expected to receive a voting email and did not, please encourage them to check their spam filters and visit https://aauw.us/emailoptions to update their preferences.
We deeply appreciate the work you've done to get out the vote, and to help members understand why we believe this is the right time to change our bylaws so people without a college degree can join AAUW. Both the AAUW board and staff know that, when you speak, your members listen—so thank you for being excellent communicators.
Affiliate Gatherings: Keep Them Virtual for Now
As vaccinations ramp up, a semblance of normalcy seems to be on the horizon. Still, our members' safety remains our top priority. We know many of you are eager to resume in-person gatherings, but we strongly urge AAUW affiliates to continue to meet virtually. The CDC recommends that all people, regardless of vaccination status, avoid medium or large in-person gatherings and follow any applicable local guidance. AAUW will keep abreast of updates from the CDC and the U.S. Department of Health and Human Services and will update our guidance as they do so. This Washington Post article contains more information on recent public health recommendations.
Get to Know State and Branch Leaders at Monthly Mixers
AAUW National is excited to host our first monthly Virtual Member Leader Mixer! Pour yourself a cup of tea or a glass of wine and join us on Thursday, May 20 to chat with AAUW members all over the country. Learn how your fellow member leaders are adapting to COVID-19 restrictions, learn and share strategies for successful programs and fundraisers, and celebrate your successes from the past year. We hope to see you there!
Webinars to Watch
Don't miss our upcoming webinar, "Public Policy Talks: Advancing Priorities in the First 100 Days and Beyond." Register today!
Missed a webinar? Head over to our webinar archive to access past events. New additions include: "Factory Flaw: the Attrition and Retention of Women in Manufacturing," in which AAUW dives into the findings from our latest independent research report sponsored by the Arconic Foundation, and "Two Steps Back: The Impact of COVID-19 on Women Entrepreneurs," which was made available through the generous support of GEICO.
Welcome New Legacy Circle Members
We gratefully acknowledge these visionary AAUW members and supporters who have recently joined the Legacy Circle: Patricia Byerly (Pennsylvania), Susan Kidwell Pine (Texas) and Jean Kreul (Wisconsin). By making a planned gift to AAUW National, each has embraced equity for future generations of women and girls as part of her personal legacy.
If you have included AAUW National in your estate plans, please contact AAUW Director of Advancement Heather Miller at 202.785.7766 to let us know so that we may celebrate you, too, as a new member of the Legacy Circle!
Your AAUW Benefits
AAUW's member benefits can enhance your professional and personal life and will save you money along the way. Most important, every time you use one of your benefits, you are also supporting AAUW's vital work, which is what makes AAUW one of the nation's most powerful voices on women's issues. Don't forget to share the many benefits available to AAUW members in your newsletters and at your meetings!
February Count Report
This year's February 1 Count Report summary is now available for states and branches located in the Member Services Database under the menu option "State Status/Branch Status." For branches, you'll also find the detailed report there as well.
Finance Officers Must Respond: Don't Lose Your IRS Tax Status
All AAUW-affiliated entities must file a tax return with the IRS every year. If your annual gross receipts are normally $50,000 or less, you can file Form 990-N. Or we can do this on your behalf if you complete the group exemption form in the Member Services Database now through October 15.
Past Membership Matters Updates