August 2022
Resources, tips and tricks for AAUW state and branch leaders
News & Resources
Keep Up to Date on the Community Hub
One of the most powerful tools we offer member leaders is our Community Hub, which allows you to update records, export lists, pay dues and more. Whether you're a new officer or continuing in your leadership role, be sure to log in to the Community Hub and review our Tools & Resources page for essential videos, written guidance and Frequently Asked Questions. You can also drop in to one of AAUW's weekly virtual "Office Hours" sessions every Tuesday and Thursday for real-time assistance from AAUW staff.
Update Your Officers for FY23 by August 31
Make sure to update your affiliate's officers for FY 23 by our extended deadline of August 31, 2022. Even if an officer is returning, please update their leadership term in the Community Hub. Here's how: Log in to your personal snapshot. When you see "MY AFFILIATIONS," click the blue button to the right of your branch name to view the options and choose "MANAGE ROSTER." To the right of the member's name, click the blue button to display the options. Click "COMMITTEE MANAGEMENT" and follow the directions on the screen to update your leaders.President/Administrators, Membership Vice Presidents and Finance Officers can all make these updates.
Branch Member Renewal Grace Period Ends September 30
The September 30 grace period for renewing members (6/30/2022 expires) to remain in good standing is fast approaching. We urge membership vice presidents and finance officers to work together to verify your members for FY23 using the "Export Branch Roster" option in the Community Hub. Please report membership discrepancies to connect@aauw.org.
Finance Officers Must Respond by October 15 — Don't Lose Your IRS Tax Status
All AAUW-affiliated entities must file a tax return with the IRS each year. If your annual gross receipts are normally $50,000 or less, you can file Form 990-N. We can do this on your behalf, but you must complete the group exemption form in Community Hub now through October 15. Login to your personal snapshot and then go to "MY AFFILIATIONS" and click the blue button next to your affiliate name. Choose "TAX INFORMATION" and then "ADD NEW TAX DETAILS" to complete the form. The form will ask for the principal officer, which for taxes is generally the finance officer. The tax period is from July 1, 2021, through June 30, 2022. Please note that AAUW will file the Form 990-N for free. However, we have not authorized any other entity to do this a branch's behalf. If you receive an email from a company offering such a service, please disregard it.
State Leaders on Branch Rosters
Branch leaders: Be aware that you may see names from state leadership on your membership rosters. Please do not attempt to remove these names. The additions were made to help state leaders access branch rosters for important state functions and assist with any Community Hub needs branches have. Deleting the names would prevent state leaders from viewing branch rosters or providing support within their state. If you have questions, please contact connect@aauw.org.
Bragging on Branches (and States!)
We are excited to share the latest update on branches and their accomplishments from the Five-Star Recognition Program, which was recently extended to run through the end of July. First, we want to celebrate the following branches who have most recently achieved Five Stars for their work last fiscal year: Lompoc-Vandenberg, Morgan Hill, Napa County, Orinda-Moraga-Lafayette, Palos Verdes Peninsula, Redding, Redlands, San Fernando Valley (California), Greater Naples (Florida), Greensboro (North Carolina), McLean Area, Reston-Herndon Area, Springfield-Annandale (Virginia), Appleton, West Suburban Milwaukee (Wisconsin).
We're also pleased to recognize the following branches that achieved stars in the recognition program: California Online, Chico, Danville-Alamo-Walnut Creek, East San Gabriel Valley, Gilroy (California), Elgin Area (Illinois), Charlotte, Salisbury (North Carolina), Alexandria (Virginia), Tomah (Wisconsin).
Success Stories
Get inspiration and advice from other branch leaders.
AAUW Mid-Peninsula Branch (California): Keep Members Informed and Engaged
Our branch's goals are well aligned with the aims of AAUW, so achieving five stars was not too difficult.  Largely due to a variety of excellent virtual programs—featuring speakers from California to New York to Zimbabwe—we retained and gained members.  Local branches shared virtual events and pop-up speakers, adding even more program opportunities.  All officers and chairs received instruction in Zoom, and an account manager arranged board, section and neighborhood meetings.

Three times during the year, we organized coffee and treats in the park to help maintain our social contacts.  We continued our support for Tech Trek by gift wrapping in pairs at a bookstore, an enjoyable fundraising event that also raised community awareness.

Our officers and chairs made an extra effort to adapt to changing conditions and needs. Flexibility was key.

It was important to keep the branch members informed and engaged. Decide with your executive board which goals are most realistic and engage them in developing the means to do so. Then let the members know your progress and what more is needed. The Five-Star program can help guide your approach and refine your plans.
Carole Farina, branch president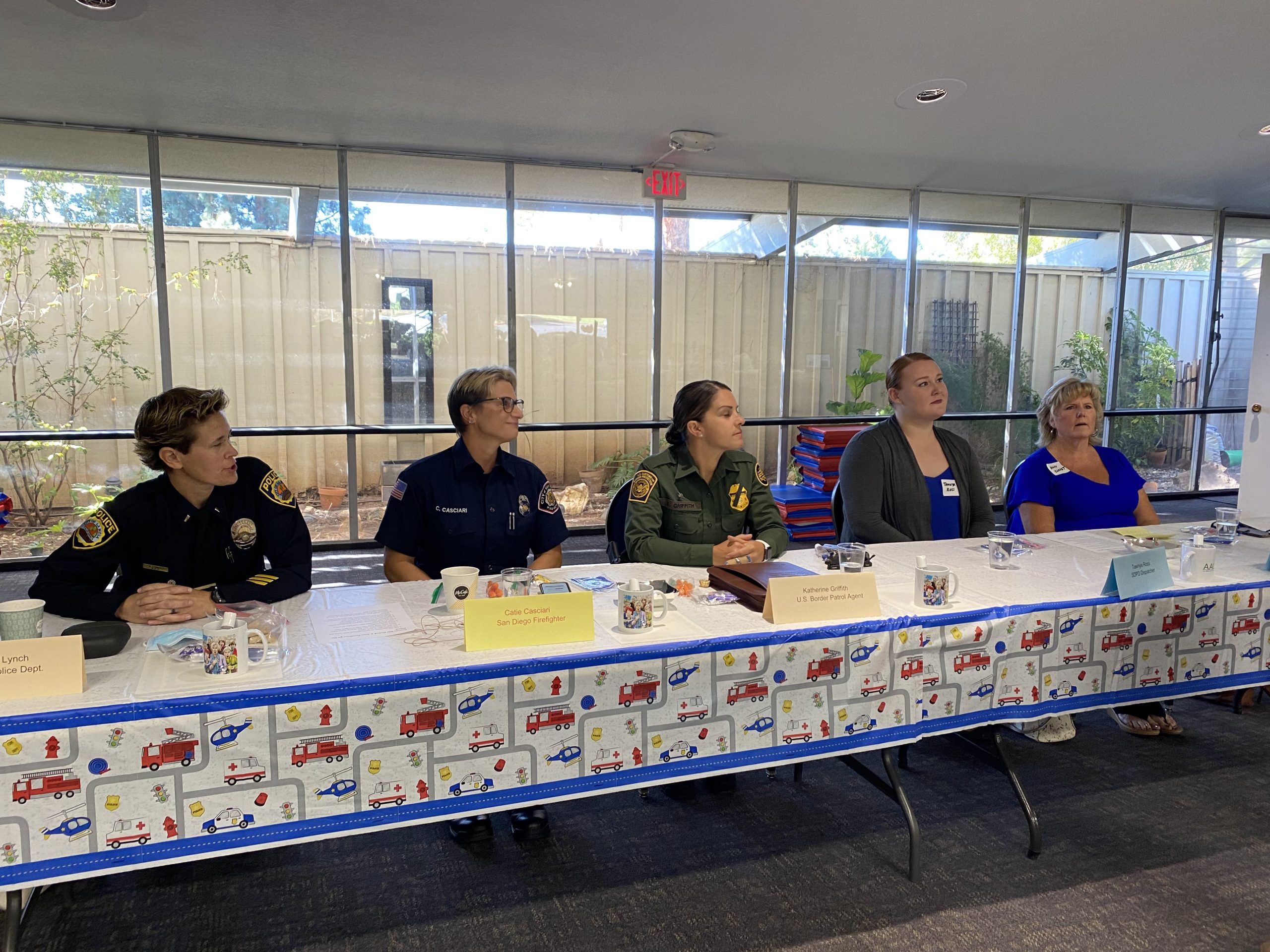 AAUW La Mesa-El Cajon Branch (California)
70 Years of Making an Impact
Making an impact was our 2021-22 theme. To do this, we held a summer retreat, during which we reviewed the results of our membership survey about how best to accomplish AAUW's mission and achieve our goals in the Five-Star Recognition Program. Our board agreed that the focus of the year would be diversity, equity and inclusion (DEI). The rubric in the Five-Star Program provided a guideline to enhance our strategic planning. Discussing each area at our board meetings helped us understand how we already met many requirements and identify what we could build on.  We appointed a board member in charge of DEI, implemented a succession plan to ensure continuity (a first for us) and launched two social media sites. Our mission-based line-up of programs gave us the opportunity to promote AAUW's Action Network. This year we celebrated our 70th anniversary and highlighted our many years of accomplishments focused on equity and education. Through our philanthropic efforts, we awarded local scholarships, sent girls to Tech Trek and participated in the California Speech Trek competition. We are also among the top 10 branches in California for our donations.
—Joan Camana, past branch president
AAUW Schaumburg Area (Illinois) Branch: Focusing our Commitment to Equity
On March 15, for Equal Pay Day, we distributed Payday candy bars with a message on pay equity at a local grocery store.

The Schaumburg Area Branch aligns our branch strategic plan with AAUW—which kickstarted our work toward meeting the criteria for the Five-Star program. A more focused commitment on infusing diversity and inclusion across programming and interest groups was key this past year. Continued collaboration with our local library brought additional Zoom and face-to-face programs to our members. After a relevant library-sponsored Zoom, branch members would sign into our own Zoom to debrief. In addition, the ability to gather outside—for a plant sale and a grocery-store gift-card sale—supported both our Greatest Needs fundraising efforts (plant sale and grocery store gift card sales) and our public policy efforts.
Peg Gallagher, past branch president
Past Membership Matters Updates