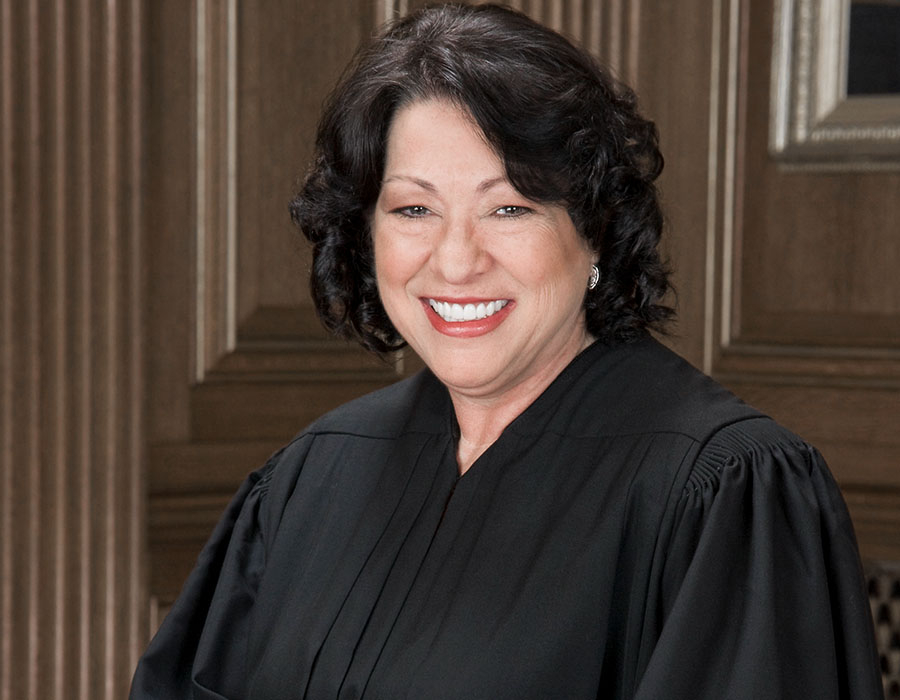 2017 AAUW Achievement Awardee Associate Justice Sonia Sotomayor
This award is presented to an individual whose record of achievement in any scholarly or professional field spans 20 or more years.
Through its achievement award, AAUW recognizes the highest standards of service in the public and private sectors. It underscores the significant accomplishments of those who advance the goals of AAUW. 
Past recipients include Supreme Court Associate Justice Sonia Sotomayor (2017), astronaut Mae Jemison (2007), anthropologist Margaret Mead (1978) and many more trailblazing women. Peruse previous winners dating back to the 1940s.
This award is currently on hiatus.
2017: Sonia Sotomayor
Sonia Sotomayor, Associate Justice, was born in Bronx, New York, on June 25, 1954. She earned a B.A. in 1976 from Princeton University, graduating summa cum laude and receiving the university's highest academic honor. In 1979, she earned a J.D. from Yale Law School where she served as an editor of the Yale Law Journal. She served as Assistant District Attorney in the New York County District Attorney's Office from 1979–1984. She then litigated international commercial matters in New York City at Pavia & Harcourt, where she served as an associate and then partner from 1984–1992.
In 1991, President George H.W. Bush nominated her to the U.S. District Court, Southern District of New York, and she served in that role from 1992–1998. She served as a judge on the United States Court of Appeals for the Second Circuit from 1998–2009.
President Barack Obama nominated her as an Associate Justice of the Supreme Court on May 26, 2009, and she assumed this role August 8, 2009.
2015: Maria Klawe
Maria Klawe began her tenure as Harvey Mudd College's first woman president in 2006. Prior to joining the college, she served as dean of engineering and professor of computer science at Princeton University. She also spent more than a decade at the University of British Columbia, eight years with IBM Research in California, and two years at the University of Toronto.In 2014 the Anita Borg Institute, the prestigious nonprofit dedicated to supporting women in technology, gave Klawe the Women of Vision ABIE Award for Leadership in recognition of her work to dramatically increase the percentage of women in Harvey Mudd's computer science department.
That same year, Klawe was ranked number 17 on Fortune magazine's list of the World's 50 Greatest Leaders. Actively involved in the academia and business worlds, Klawe is a member of the boards of Microsoft Corporation, Broadcom Corporation and Math for America. She is a fellow of the American Academy of Arts and Sciences, a trustee for the Mathematical Sciences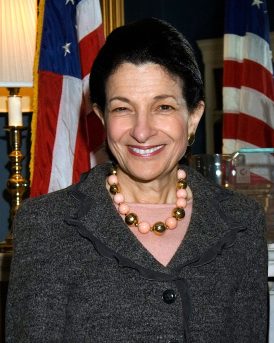 Research Institute and a member of both the Engineering Advisory Council at Stanford University and the Computer Science Teachers Association Advisory Council. She holds doctorate and bachelor's degrees in mathematics from the University of Alberta.
2013: Olympia Snowe
Snowe was a U.S. Senator from Maine from 1995 to 2013. She is the fourth woman in history to be elected to both houses of Congress and the first woman in American history to serve in both houses of a state legislature and both houses of Congress.
2007: Mae Jemison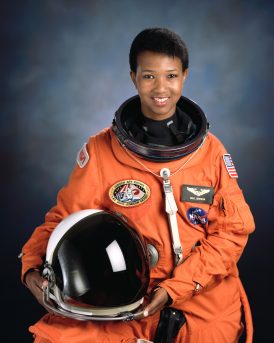 First African-American woman in space aboard NASA's space shuttle Endeavour. Founder of BioSentient Corp, the Jemison Group, and the Dorothy Jemison Foundation for Excellence.
2005: Madeleine Albright
First woman U.S. secretary of state. Founder of the Albright Stonebridge Group.
2003: Gloria Steinem
Co-founder of Ms. magazine, the Ms. Foundation, the National Women's Political Caucus, Voters for Choice, and Choice USA. Author of several bestsellers.
2001: Rita R. Colwell
First woman director of the National Science Foundation.
1999: Ruth Bader Ginsburg
Supreme Court justice. Co-founder of the women's rights project of the ACLU. First tenured woman at Columbia University's law school.
1997: Marilyn Horne
Acclaimed opera singer.
1995: Antonia Hernandez
Former president and general counsel of the Mexican American Legal Defense and Education Fund. Current president and chief executive officer of the California Community Foundation.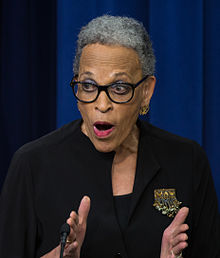 1993: Wilma Mankiller
First female chief of Cherokee Nation of Oklahoma.
1991: Johnnetta B. Cole
First female president of Spelman College. Current director of the Smithsonian Institution's National Museum of African Art.
1990: Evelyn Fox Keller
Expert in mathematical biology, physics, and the history and philosophy of science and feminist theory. Biographer of 1947 awardee Barbara McClintock.
1989: Marva Collins
Founder and director of the former Westside Preparatory School in Chicago. Trainer of teachers in low-income schools, promoted the Socratic method for students who have been misidentified as learning disabled.
1988: Sandra Day O'Connor
First woman on the Supreme Court. Served as the majority leader of the Arizona Senate.
1987: Marian Wright Edelman
Founder and president of the Children's Defense Fund. First African American woman admitted to the Mississippi Bar.
1986: Gerda Lerner
A founder of the discipline of women's history and former president of the Organization of American Historians.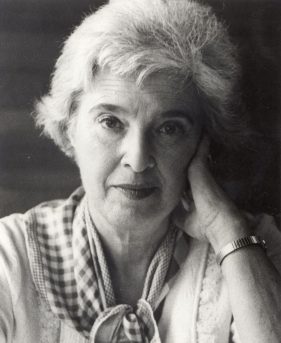 1985: Eudora Welty
Pulitzer Prize-winning novelist and short story writer from Mississippi.
1984: Joan Ganz Cooney
Co-founder and former chair and chief executive officer of the Children's Television Workshop, which produces Sesame Street and other children's programming.
1983: Grace Murray Hopper
U.S. Navy rear admiral. Co-inventor of the computer language COBOL. Upon retirement was the nation's oldest active-duty officer.
1982: Julia M. Walsh
First woman to graduate from the advanced management program at Harvard Business School. First woman board member of the American Stock Exchange. Founder of Julia M. Walsh and Sons brokerage firm.
1981: Juanita M. Kreps
First woman U.S. secretary of commerce and the first economist to hold the post. Vice president of Duke University. First woman director of the New York Stock Exchange.
1980: Hanna Holborn Gray
Professor of history. First female president of a major university, serving at the University of Chicago from 1978-93. Served as chair of the board of the Howard Hughes Medical Institute until 2010.
1979: Nancy Roeske
Professor of psychiatry and the coordinator of medical education at Indiana University. Focused on a holistic and humanistic approach to patients, women's health issues, and the mental health problems of visually impaired children. First chair of the American Psychiatric Association Task Force on Women.
1978: Margaret Mead
Cultural anthropologist. Second woman president of the American Association for the Advancement of Science. Curator emeritus of the American Museum of Natural History and outspoken leader of the feminist movement.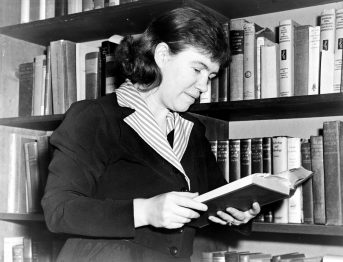 1977: Gisela Konopka
Professor of social work. Contributed to the development of social group work and its practice with children and young adults. The Konopka Institute for Best Practices in Adolescent Health at the University of Minnesota was named in her honor.
1976: Jessie Bernard
Sociologist and feminist scholar. Research focused on marriage, sex, motherhood, and changing family lifestyles.
1975: Dixy Lee Ray
First woman governor of Washington state. First woman commissioner and later chair of the U.S. Atomic Energy Commission.
1974: Edith Green
Democratic member of the U.S. House of Representatives from Oregon. Served 10 terms from 1955–74. Known as the "Godmother of Title IX."
1973: Mamie Phipps Clark
Psychologist. Second African American to receive a doctorate in psychology from Columbia University. Co-established the Northside Center for Child Development in Harlem. Her research on the effects of segregation and racism on the self-esteem of black children was cited in Brown v. Board of Education.
1972: Helen H. Nowlis
Director of the drug abuse education program at the U.S. Office of Education. Author of the 1969 guide for college administrators, Drugs on the College Campus.
1971: Alona E. Evans
Professor of political science at Wellesley College. First woman president of the American Society of International Law.
1970: Margery W. Shaw
Geneticist. Discovered the tools to identify and sort out human chromosomes and researched chromosome damage. Directed the Medical Genetics Center of Houston.
1969: Dorothy W. Weeks
Spectroscopist for the solar satellite project at Harvard College Observatory. First woman to receive a doctorate in mathematics from Massachusetts Institute of Technology.
1968: Eveline M. Burns
Social economist and authority on social security. Developed alternative plans for the support of dependent families and the elderly.
1967: Lucy Shields Morgan
Public health educator. Advisor to the World Health Organization. Credited with improving and modernizing public health education.
1966: Dora J. Dougherty
Pilot and member of the Woman Airforce Service Pilots (WASP) program during World War II and the Whirly-Girls, an international association of women helicopter pilots. As a human factors aeronautical engineer, researched pilot performance and cockpit design. Helped to legally validate WASP service as active duty military service, allowing women pilots from World War II to gain veteran's status and benefits.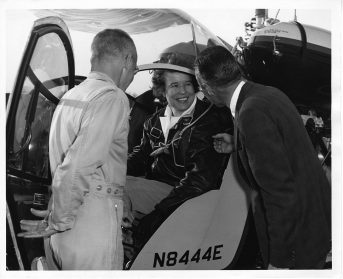 1965: Mina Rees
Mathematician. First woman president of the American Association for the Advancement of Science. Collaborated on the development of the high-speed computer.
1964: Mildred Campbell
Historian and early advocate of gender studies at Vassar College with special interest in the impact of social and economic forces on the social structure.
1963: Helen B. Taussig
Founded the field of pediatric cardiology. First woman president of the American Heart Association. Studied congenital heart malformations and was responsible for significant increases in the survival rates for babies born with severe heart defects.
1962: Gwendolen M. Carter
Political scientist. One of the founders of African Studies in the United States. Among the most widely known scholars of African affairs in the 20th century.
1961: Cora Alice Du Bois
Cultural anthropologist focused primarily on Southeast Asia. Worked for the Office of Strategic Services during World War II. First tenured woman in the anthropology department at Harvard University.
1960: Lily Bess Campbell
Eminent Shakespearean authority and expert on English Renaissance literature and the history of theater. Author of seven books.
1959: Chien-Shiung Wu
Experimental physicist. Disproved the "parity law," the fundamental theory of physics, which held that objects that are mirror images of each other behave in the same way. Worked on the Manhattan Project.
1958: María Rosa Lida de Malkiel
Philologist. Teacher of Greek, Latin, and medieval and modern Hispanic literature at American universities and the University of Buenos Aires. Published studies on the survival of classical antiquity in literature.
1957: Cecilia Payne-Gaposchkin
Stellar astronomer specializing in spectroscopy and photometry. Chair of Harvard University's Department of Astronomy. First woman at Harvard to attain full professorship through promotion and first woman chair of any department.
1956: Rachel Carson
Author of Silent Spring, the book documenting the effects of DDT on the environment that started the contemporary battle between environmentalists and industry.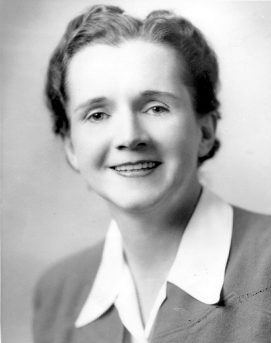 1955: Rosemond Tuve
First woman professor of English at the University of Pennsylvania. Scholar of medieval and Renaissance literature and the poets Spenser, Milton, and Herbert.
1954: Marjorie H. Nicholson
Chair of the English and comparative literature department at Columbia University and the first woman to be appointed to full professorship on the graduate faculty at Columbia. Authority on the relationship between poetry, philosophy, and science in the17th century.
1953: Mabel Newcomer
Professor of economics at Vassar College for 40 years. Internationally recognized authority on fiscal problems of government, with an extensive record of public service.
1952: Lily Ross Taylor
First woman named professor-in-charge of the School of Classical Studies of the American Academy in Rome. Dean of Bryn Mawr College Graduate School and professor of Latin.
1951: Mary Hamilton Swindler
Professor of archeology at Bryn Mawr College for 37 years. Editor of the American Journal of Archaeology for 14 years.
1950: Elizabeth C. Crosby
Neuro-anatanomist and first woman medical professor at the University of Michigan. 1979 recipient of the National Medal of Science.
1949: Helen C. White
President of AAUW. First woman to chair the University of Wisconsin, Madison, English Department. Member of the U.S. National Commission for UNESCO.
1948: Sirarpie Der Nersessian
Art historian specializing in Armenian and Byzantine studies. Emerita and honorary associate of the Board of Scholars at the Dumbarton Oaks Research Library and Collection of Harvard University, where she taught for almost 20 years. First woman at Dumbarton Oaks to receive full professorship at Harvard.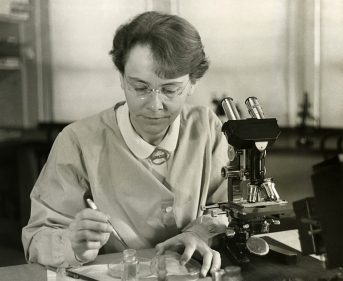 1947: Barbara McClintock
First woman to win an unshared Nobel Prize in Physiology or Medicine for her work in genetic transposition or "jumping genes" in 1983, 36 years after AAUW recognized McClintock for her work.
1946: Ruth Fulton Benedict
Anthropologist and folklorist. Used studies of human behavior patterns to argue against racial discrimination in her publications, such as The Chrysanthemum and the Sword.
1945: Katherine Burr Blodgett
Inventor of "invisible glass," which improved the efficiency of lenses used in submarine periscopes and aerial cameras. First woman to be awarded a doctorate in physics from Cambridge University.
1944: Gisela M.A. Richter
Classical archaeologist and art historian. Curator of the department of Greek and Roman art at New York's Metropolitan Museum of Art.
1943: Florence B. Seibert
Inventor of the first reliable tuberculosis test, still in use today. Improved the safety of intravenous injections.