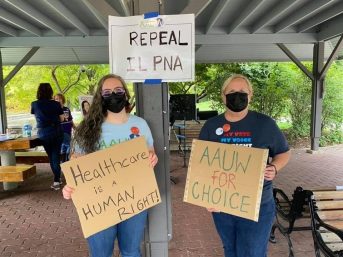 Thousands of people across the country participated in the Rally for Abortion Justice on October 2, demanding an end to the escalating attacks on reproductive rights and freedoms.
AAUW joined more than 150 partners, led by key reproductive justice organizations, to mobilize events in every state, some 650 in all. Hundreds of AAUW members participated in local events: Some hosted and spoke at in-person rallies; others participated virtually, amplifying information online and contacting their elected officials.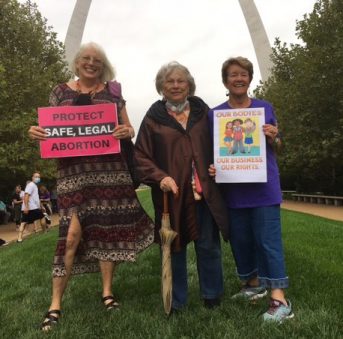 This was not the first time AAUW took action to defend the right to bodily autonomy and abortion care — and likely won't be the last. While the Supreme Court of the United States has repeatedly confirmed this right since the Roe vs. Wade court decision in 1973, abortion rights have  been under attack ever since. States have enacted medically unnecessary restrictions and erected barriers that limit abortion access. The recent anti-abortion laws in Texas and Mississippi, as well as the Supreme Court's alarming refusal to defend a constitutional right, prompted the latest round of protests.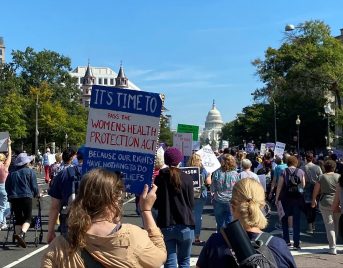 AAUW believes it is important to keep up the drum beat in the weeks ahead. On December 1, the Supreme Court, which now includes a majority of anti-abortion justices, is scheduled to hear arguments in a Mississippi case, Dobbs v. Jackson Women's Health Organization. This case, asking the court to rule on the constitutionality of certain state abortion bans, could potentially overturn the Roe v. Wade decision. Here is what you can do to help protect abortion rights:
Contact your elected officials: Direct constituent interactions have more influence on lawmakers' decisions than other advocacy strategies. You can hold a virtual meeting in your district to remind everyone to urge members of Congress to support the Women's Health Protection Act!
Write a letter to the editor: Writing a letter to the editor or an op-ed is a great way to energize branch members, promote AAUW visibility in the community and spread the word about important issues.
Build community: Educating friends and family and enlisting their support is a valuable contribution to the cause. Have a conversation with loved ones or host a community forum to discus the importance of defending reproductive health and freedom for all. (Read more in Where We Stand: Reproductive Rights.)
Related