Representation of women in higher education faculty and executive positions is skewed.
Women make up the majority of nontenure-track lecturers and instructors across institutions, but only 44% of tenure-track faculty and 36% of full professors. Women of color are especially underrepresented in college faculty and staffs — which contributes to lack of diversity, equity and inclusion in teaching practices and curriculum as well as role models and support systems for students.
Only around 30% of college presidents are women, while more than 50% of heads of departments are women. Women only make up around 30% of college board of directors. Women are still paid less than men at every faculty rank and in most positions within institutional leadership, with higher education administrators experiencing around a 20% gender pay gap and college presidents having a pay gap under 10%.
Only around 5% of college presidents are racial or ethnic minority women.
Many key advancement opportunities in higher education professions often coincide with women's childbearing years, including graduate school, post-doctoral fellowships, tenure review, and publishing pressures, which can limit women's consideration for positions and/or women seeking those positions at those times. Families with two academics may also face the two-body problem — the extreme difficulty of finding two tenure-track jobs within commuting distance of each other.
Only 15% of tenure-track engineering faculty are women, and only 14% of computer science tenure-track faculty are women.
Around 70% of male professors with tenure have children compared to 44% of female tenured professors.
A number of studies have shown bias in publishing of academic articles — where women are disproportionately published less, receive less credit than male authors, or turning out fewer but more consequential pieces than their male colleagues,
Only 5.2% of tenured faculty are Black and 6.6% are Latinx at Bachelor's-granting institutions; and at the doctoral-granting institutions the rates are 4% and 4.6% respectively.
The pipeline of students of color receiving doctoral degrees is also disproportionately low — only 5.4% of doctorates are awarded to Black students, and more than a dozen fields did not have a single Black doctoral recipient.
Some schools are creating scholars programs to attract and retain more students of color to earn STEM doctorates, such as the Meyerhoff Scholars Program at the University of Maryland, Baltimore, and some colleges, like the University of California, Los Angeles are requiring applicants for faculty and staff positions to provide information about their experience and contributions to equity, diversity and inclusion.
A Brighter Tomorrow
"The more we pull together toward a new day, the less it matters what pushed us apart in the past."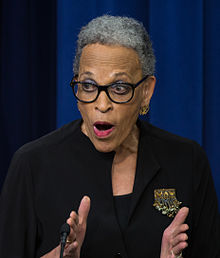 Workplace and Economic Equity