Leading By Example
Dr. Ferebee "was the sort of person who enlarges other people's ideas of what can be done by those enterprising enough to want to."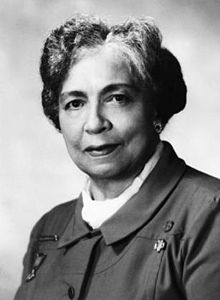 Dorothy Celeste Boulding Ferebee was a civil rights pioneer, a groundbreaking physician, and an AAUW board member who worked tirelessly to ensure access to health care for underserved communities.
Ferebee, a child of former slaves, was born in 1898 in Norfolk, Virginia. She graduated from Simmons College in 1924 and subsequently earned her medical degree from Tufts University. Although she graduated in the top five of her class, she was met with discrimination when she applied for positions at white hospitals. Frustrated by the lack of opportunities available to black female physicians in Massachusetts, Ferebee moved to Washington, D.C. She became an obstetrician serving the African American community at Freedman's Hospital, which is now Howard University Hospital.
Ferebee left her mark on Washington in many ways. In 1925, concerned about the lack of access to public health and family services in the black community, she established Southeast Neighborhood House. This group of physicians provided medical care and other community services, including a day care facility to meet the needs of working mothers. By this act alone, Ferebee was clearly ahead of her time. Remember, this was 1925!
During the Great Depression, Ferebee volunteered her time as medical director of the Mississippi Health Project, a program sponsored by the first African American sorority, Alpha Kappa Alpha. Black physicians provided medical care to the residents of Mississippi, a state with notoriously limited access to doctors and hospitals.
Within AAUW, Ferebee was a member of the AAUW Washington (DC) Branch. She also served as chair of the Social and Economic Issues Committee. Importantly, in 1969, she was nominated to become implementation chair for AAUW's Human Use of Urban Space study. She brought her vast expertise to the position, helping to develop solutions to community problems like access to healthcare and public health challenges.
In addition to her AAUW service, Ferebee succeeded Mary McLeod Bethune as president of the National Council of Negro Women, was president of the Alpha Kappa Alpha sorority, and served as vice president of the Girl Scouts.
Related
AAUW advocates for universal access to quality, affordable health care, including insurance, and comprehensive family planning services.