Goodness, what a year 2020 was! Yet despite the global pandemic, social unrest, threats to our democracy and the worst economic downturn in decades, AAUW has stayed focused on our mission: When the COVID-19 crisis hit, our national office staff pivoted quickly to working remotely and, unlike many other nonprofits, we were able to keep our belts tightened, avoiding furloughs and layoffs. We are proud of all that our dedicated team accomplished over the past months and we look forward to what's in store for the promising year ahead.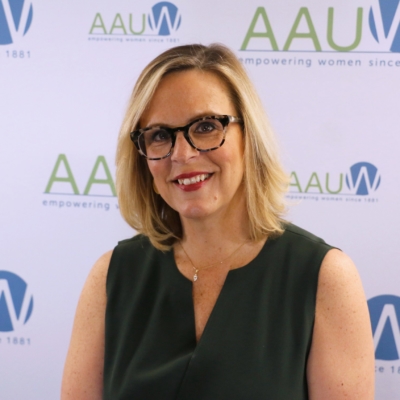 What We've Done, Where We're Headed
Programs
A Year of Outreach
In the face of pandemic closures last March, AAUW quickly moved its programs online and, as of the end of 2020, we hosted more than 35 webinars for both AAUW members and members of the Equity Network learning community. These programs reached more than 30,000 people, engaging them on a wide range of topics.
AAUW's Start Smart and Work Smart salary negotition trainings continued to be AAUW's most sought-after programs, reaching more than 180,000 participants to date. While in-person trainings were cancelled due to the pandemic, virtual trainings and increased promotion of Work Smart Online created new opportunities
We ramped up our work with Historically Black Colleges and Universities (HBCUs) and other minority-serving institutions, thanks to a generous grant from The Coca-Cola Foundation. A total of 29 minority-serving colleges, including 18 HBCUs, now offer AAUW's Start Smart training, bringing the number of colleges and universities hosting the program to 142.
AAUW also offered online versions of the Empower leadership training program, including a webinar with fellowship alumna Ashanti Johnson, the first female African American chemical oceanographer, who is an international expert on women in the STEM fields.
AAUW's annual National Conference for College Women Student Leaders (NCCWSL), scheduled for late May at the University of Maryland in College Park, was postponed due to the pandemic. Plans are in the works for a virtual conference this spring, with the hope of resuming in-person gatherings in the Spring of 2022.
Looking ahead, AAUW is planning on expanding its offerings of programs aimed at encouraging young women to enter the STEM majors and careers. Look for more information on this in early 2021.
Public Policy
A Year of Action
AAUW Two-Minute Activists sent 62,400 letters to elected officials calling for action on AAUW priorities such as comprehensive COVID-19 relief, the Voting Rights Advancement Act, the Paycheck Fairness Act, removing the deadline for the ratification of the Equal Rights Amendment, paid family leave, support for Title IX, and more.
AAUW launched the Latina Policy Initiative to gain a better understanding of the economic and health impact of COVID-19 on Latinas, particularly those who are essential workers and in low wage occupations. A forthcoming fact sheet on the status of Latinas in the U.S. will be used to advocate for polices to address inequities that disproportionately impact this vulnerable population.
We revamped the Legal Advocacy Fund, supporting five active cases and distributing over $70,000 in 2020.
AAUW and coalition partners successfully advocated for the House passage of the Pregnant Workers Fairness Act.
The AAUW Action Fund provided 65 head-to-head voter guides on candidate positions in key federal races for 2020 elections. Members also educated and mobilized voters using the AAUW Action Fund Voter Issue Guide, Congressional Voting Record, and tips on how to GOTV using social media.
Fellowships & Grants
A Year of Learning
More than 250 recipients received nearly $3.9 million in AAUW fellowships and grants for the 2020–21 academic year. The funding aims to advance educational and professional opportunities for women in the United States and around the globe.
AAUW is one of the world's leading supporters of graduate women's education. Since 1888, it has awarded more than $115 million in fellowships, grants and awards to 13,000 recipients from 145 countries. Candidates are selected on the basis of scholarly excellence, quality and originality of project design and active commitment to helping women and girls through service in their communities, professions or fields of research.
Our fellows and grantees have a long and distinguished history of contributing to their schools, their communities and to society at large. Even in today's challenging times, we know that this year's recipients will continue in that esteemed tradition. AAUW is proud to provide the support they need to excel in their academic work — and to ultimately make the world a better place.
Research
A Year of Discovery
The Simple Truth About the Gender Wage Gap, 2020 Update focused on how women of color face a wider pay gap — and one that will take far longer to close than the pay gap for white women. A special 2021 supplement to the report will include an analysis of the historical factors behind the wider pay gap for women of color. This research was supported by the Mooneen Lecce Giving Circle. 
Deeper in Debt: Women and Student Loans in the Time of COVID explored how the pandemic exacerbated the student debt crisis and made it more difficult for many women to pay off student loans. Among the recommended remedies are loan forgiveness programs and expansion of federal and state tuition aid. In the months ahead, this report will be a cornerstone of our advocacy work on helping ease the burden of student loans on women.
Factory Flaw: The Attrition and Retention of Women in Manufacturing will be released in early 2021. The research, made possibly with a grant from The Arconic Foundation, explores the dearth of women in well-paying jobs in this sector and outlines ways employers and policymakers can recruit, retain and advance women in this field.
Highest Compensated in Higher Education, a research collaboration of AAUW and the Eos Foundation, is planned for release in February 2021. It will examine women's leadership among the country's 130 research universities, and reveal how many women are among the top highest paid professionals at each school. A second report, scheduled for later in the year, will look at the same data through a racial lens.
A Year of Giving
Thanks to the generosity of so many national leaders and the Board, AAUW was able to launch two matching gift programs for donors this year — one during the Spring initial height of the COVID-19 pandemic and the other the end of the 2020 calendar year. These campaigns to AAUW's Greatest Needs Fund have been especially critical in allowing AAUW to focus on the pressing and most critical needs facing women and girls right now.
Related
A renewed focus on diversity, equity and inclusion.