Three ways to help motivate civic engagement, even in a time of lockdowns and social distancing.
By Robin Lucas, AAUW Grassroots Advocacy Manager
Involvement in the political process is always important, but it is especially so now as we move toward the 2020 election amid the COVID-19 pandemic.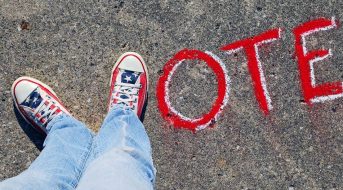 To encourage active participation in the political process, the Equity Network and AAUW Action Fund hosted a webinar outlining three key ways to help ensure that every American has the opportunity to cast their ballot in an informed way.
Voter Access
Voting is a fundamental American right, yet exercising that right isn't always easy. Certain jurisdictions attempt to restrict voting under the guise of preventing "voter fraud," even though that is an extremely rare occurrence. Rather than restrict voting, we need to prioritize expanding options for casting a ballot, particularly as the pandemic threatens to hinder some voters' ability to turn out at the polls on a single day. There is no "one-method-fits-all" approach to voter access: Early voting, voting by mail and no-excuse absentee voting should all be offered as options, in addition to in-person voting on November 3, with appropriate public health safety precautions.
How you can help: Start by making a simple phone call to your governor, Secretary of State and the state Board of Elections. Ask two critical questions: 1.) Is an absentee ballot available so that I can vote safely during the public health crisis? 2.) What is being done to ensure safe and broadly accessible elections for all? Tell these officials you are a constituent and that you are concerned that the upcoming elections won't be conducted in a way that will allow all voters to participate.
On a federal level, call your Senator to let them know you support the Voting Rights Advancement Act of 2019. The bill was passed by the House in December and is now before the Senate Committee on the Judiciary. It calls for reviewing voting changes in jurisdictions nationwide, focusing on measures that have historically been used to discriminate against voters.
Additionally, as COVID 19 threatens to curtail voter access (particularly for marginalized communities), urge the federal government to commit resources to ensure that changes in elections rules and processes provide all Americans with a safe and easy way to vote. (To protect voter access, this Two-Minute Activist action calls for support of the Voting Rights Advancement Act.)
Getting out the Vote
Increasing voter turnout is a top priority for the 2020 election. The more people who vote, the better our representative democracy will function. You can help get out the vote (GOTV) by making sure that all eligible voters are registered (and their registration is current) and that they know how and where to cast their ballot. As election day draws closer, check to see if voters have all the information they need:  Do they know which polling places are open and ready for people to go in safely? Are they able to request an absentee ballot, and if so, have they requested it by their jurisdiction's deadlines? Do they know how send in the ballot itself and by what day it needs to be postmarked? These are critical questions to ask ourselves and our communities.
What you can do: Personal connections are most effective to inspire voters, but in this current environment, traditional efforts like door-to-door canvassing are not advised. Instead, use targeted phone calls and social media outreach. Connect with activists in your community to get involved with phone and text banking. Write postcards and letters to voters, sending them by mail or via no-contact drop-off. Whenever possible, keep your messaging personal and direct.
Voter Education
The more voters know about the candidates we elect – and where they stand on important issues – the more likely we are to choose leaders whose views align with our own. This is the time to start direct conversations about specific voter issues and help people understand what's at stake. Use such resources as the American Association of University Women's 2020 Voter Issue Guide, which provides information on key issues like the gender pay gap, family leave and paid sick days, college affordability, campus sexual violence, voting rights, and health care and reproductive rights. You can also download head-to-head voter guide templates to assess candidates' positions on such issues as economic security, education, and civil rights and more.
What you can do:  In addition to educating yourself on what's at stake in the 2020 election, you can help educate others by partnering with advocacy groups or like-minded people in your community to host an "Issues Forum." These can be panel discussions with experts, tele-town halls with candidates, or even a smaller conversation within your social network​. Invite people you know who would be interested, and ask them to invite their friends. Learn where your local candidates stand on the issues, prepare a list of questions to get the conversation started. Take information from our resources, (virtually) gather voters in your communities, and remind everyone that our economic security, education, and reproductive & general health are essential to this democracy.
April 16, 2020
Getting Out the Vote During a Pandemic
The COVID-19 crisis poses an unprecedented challenge to our electoral process. Learn about the pandemic's impact on voter access, gain key "get out the vote" and voter education resources, and identify priority policy issues facing women and families this election.