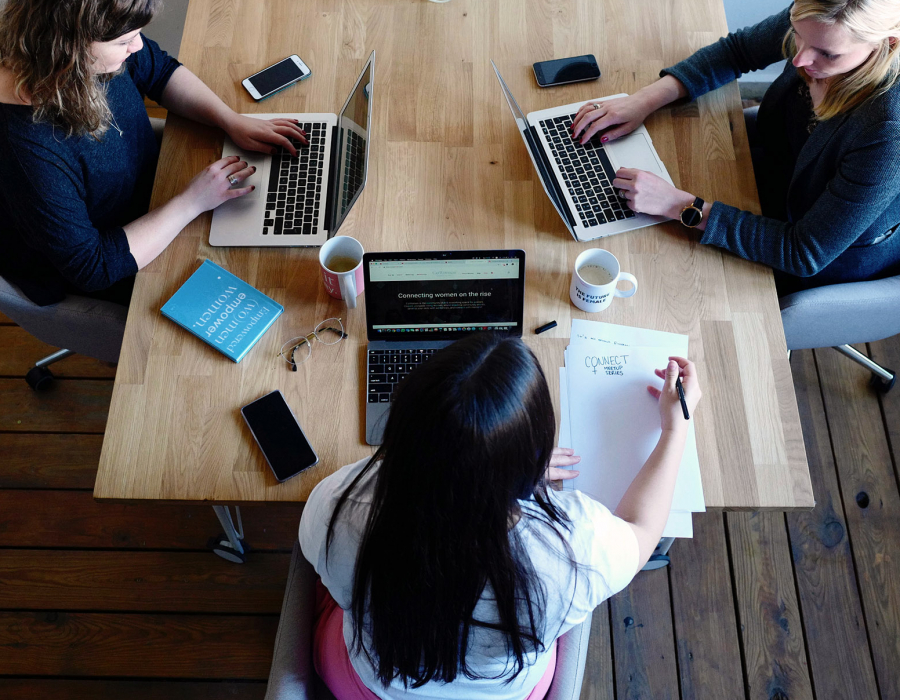 Engage & Learn
We're conducting a series of webinars exclusive to the Equity Network.
Join us as we engage with the issues that matter most and share helpful resources for taking action. From negotiating your salary and benefits to advocating for change in your own community, the Equity Network is here to help you succeed.
Check out our past webinars below and stay tuned for upcoming programs.
Upcoming Events
Check back soon for more programming!
November 19, 2020
The Microintervention Workshop
Presented by AAUW alumna Sarah Alsaidi, The Microintervention Workshop aims to increase awareness and self-reflection skills, and explain the difference between microaggressions and macroaggressions. Learn response strategies that can be used to defend against daily experiences of microaggressions. Read the original article.
November 18, 2020
Status of Latinas
Join us to hear about a new collaboration focused on the status of Latinas and the impact of the pandemic on their economic security and wellbeing. We discuss AAUW's actions to address systemic workplace disparities, increase wages, promote paid sick and family leave policies, and make health care available to all workers. Webinar sponsored by GEICO.
October 27, 2020
Radical Self-Acceptance
Impostor Syndrome impacts millions of people of all backgrounds, but the compounding effects of racism and sexism create a unique hurdle for women of color in the workplace. Lincoln Hill, PhD discusses the impostor phenomenon, unpacking why women of color are often rendered invisible in these conversations and how we can all practice radical self-acceptance to stop minimizing our achievements.
October 20, 2020
Women Scholars During COVID
COVID-19 has disrupted every aspect of higher education. The increase in caregiving, quarantine, social distancing and mental health challenges all reduced academic success and amplified barriers to women's career advancement. Join us as Dr. Malisch shares important research findings and actionable solutions for addressing the future of women in academia. Webinar sponsored by GEICO. Download the slides.
October 13, 2020
Managing Burnout Through Self-Compassion
Sabrina Basquez specializes in workplace-related burnout and traumatic stress recovery. Join us to learn about burnout, how it decreases our professional and interpersonal effectiveness, and tips on how to start managing excessive stress through cultivating greater self-compassion. Download the slides.
October 1, 2020
Justice Ginsburg's Legacy and the Future of the Court
Ginsburg was a champion for the rights of women and girls, but what does the future hold for her seat on the bench and how will it impact AAUW's work? Join AAUW's public policy team for a discussion of the past, the future, and your role in shaping history.
September 9, 2020
COVID-19 and the Labor Economy
Join us for a conversation with economist Diane Lim where we discuss how the ongoing pandemic has affected the labor economy and what it means for women, people of color and low-wage workers.
August 20, 2020
Archeology of the Self
Join us for a conversation with Dr. Yolanda Sealey-Ruiz, AAUW fellowship alumna, professor, author, and poet. Sustaining racial literacy across the life span is possible by engaging in an "Archeology of the Self" — an action-oriented process requiring love, humility, reflection, an understanding of history and a commitment to working against racial injustice.
August 6, 2020
Conversations on Race, Equity & Inclusion
Join AAUW as we hold space for a collective journey towards gender, race, equity and inclusion dialogue led by Dr. Taharee Jackson — certified trainer of diversity trainers, Lead Equity Specialist and expert trainer, and federal EEO counselor. Download slides here. Sponsored by GEICO.
July 30, 2020
Is Your Perspective Inclusive?
Join AAUW's Sheila Amo for a discussion with Pamela Fuller, Thought Leader of Inclusion and Bias at FranklinCovey, and Dr. Lisette Garcia, Executive Vice President and COO at the Hispanic Association on Corporate Responsibility (HACR), to learn more about developing inclusive perspectives. This webinar was made possible through the generous support of GEICO.
June 25, 2020
Black Women Leading Through an Equity Lens
Join AAUW for a courageous conversation with Kimberly L. Sisnett, SVP, People at VERICAST; and Stephanie Jackson, Senior Business Resiliency Specialists Control Risk at Facebook to learn about their experiences, challenges and lessons learned in corporate leadership.
June 23, 2020
Using Tech For Good
Join us for a conversation with Dr. Maria Artunduaga, an emerging leader in technology, biomedical discovery and the social impact field, as she shares her inspiring leadership journey as a physician and Latina in the male-dominated start up industry, how her company pivoted during COVID-19, and her strategies for success.
June 18, 2020
Communications for Your Career
Join AAUW CEO Kim Churches for a conversation with Nancy Racette, a leader in development consulting and executive search for the non-profit sector. Learn how the current crises impact networking and job searching, discover best practices for virtual interviewing, and get tips for crafting a resume and cover letter to get noticed.
June 11, 2020
A Conversation on Education & Equity
Join AAUW for a conversation on education and equity with Dr. Amaka Okechukwu, 2017-18 AAUW American Fellow, Assistant Professor of Sociology at George Mason University and author of To Fulfill These Rights: Political Struggle Over Affirmative Action and Open Admissions.
May 28, 2020
Social Media Advocacy 101
Social media is an effective tool to extend our reach and mobilize supporters around issues impacting women and girls. We explore best practices and resources for issues-based outreach and "get out the vote" efforts​ during the pandemic and beyond. Join us for this introductory workshop and learn how you can use social media to best support your advocacy efforts.
May 21, 2020
Secrets to Strong Writing for Professionals
Being able to write well is an important professional skill and a great way to engage people in the issues that matter to you. Whether it's through an op-ed, a letter to the editor or even a cover letter, communicating your ideas effectively can change hearts and minds and set you apart.
May 18, 2020
STEM Leadership in Online Resources During COVID-19
AAUW alumna Sarah McAnulty is a squid biologist, science communicator and founder of Skype a Scientist — a nonprofit organization that connects scientists and students around the world, even during COVID-19. Learn more about Dr. McAnulty's career journey and her amazing STEM resource!
May 12, 2020
State Legislators Roundtable Discussion
Sen. Tim Knopp (OR), Sen. Lori Berman (FL), Rep. Athena Salman (AZ) and Rep. Stephanie Howse (OH) discuss how COVID-19 has impacted how they govern, what it means for non-emergency legislative priorities and how it has exacerbated or mitigated partisan differences.
May 7, 2020
Mentorship, Sponsorship & Building Your Network
Virtual networking is an important skill in our increasingly digital world, especially now as COVID-19 limits our ability to interact in-person. Learn tips for articulating your value, building your network and maximizing the strength of your professional relationships.
April 30, 2020
Building Your Personal Brand
A personal brand is a powerful tool for advancing your career and message. It reflects how you present yourself, communicates what you value, and defines what you can bring to the table. During this webinar, you'll learn how to define your value, narrow down your target audiences, and use online resources to stand out.
April 16, 2020
Getting Out the Vote During a Pandemic
The COVID-19 crisis poses an unprecedented challenge to our electoral process. Learn about the pandemic's impact on voter access, gain key "get out the vote" and voter education resources, and identify priority policy issues facing women and families this election.
March 26, 2020
Effective Advocacy During COVID-19
The economic security of countless families is being threatened as our country attempts to contain the spread of COVID-19. In this webinar we explore how we can all safely fight for communities impacted by this health crisis.
Related