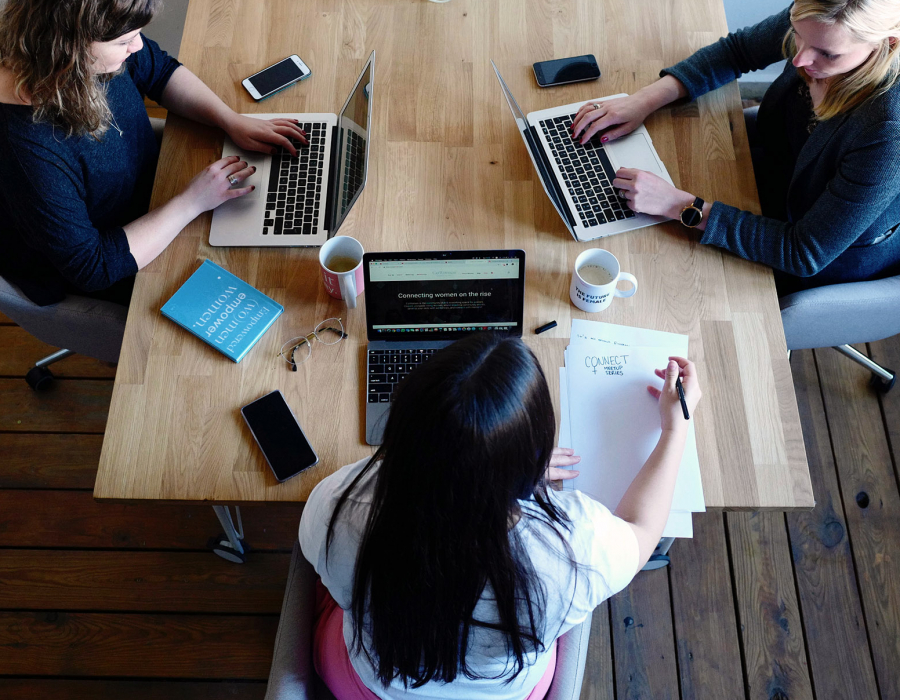 Engage & Learn
We're conducting a series of webinars exclusive to the Equity Network.
Join us as we engage with the issues that matter most and share helpful resources for taking action. From negotiating your salary and benefits to advocating for change in your own community, the Equity Network is here to help you succeed.
Check out our past webinars below and stay tuned for upcoming programs.
Thursday, August 6 | 5pm ET
Holding Space: How to Start and Continue Conversations on Race, Equity and Inclusion
Register
Be the First to Know
July 30, 2020
Is Your Perspective Inclusive?
Join AAUW's Sheila Amo for a discussion with Pamela Fuller, Thought Leader of Inclusion and Bias at FranklinCovey, and Dr. Lisette Garcia, Executive Vice President and COO at the Hispanic Association on Corporate Responsibility (HACR), to learn more about developing inclusive perspectives. This webinar was made possible through the generous support of GEICO.
June 25, 2020
Black Women Leading Through an Equity Lens
Join AAUW for a courageous conversation with Kimberly L. Sisnett, SVP, People at VERICAST; and Stephanie Jackson, Senior Business Resiliency Specialists Control Risk at Facebook to learn about their experiences, challenges and lessons learned in corporate leadership.
June 23, 2020
Using Tech For Good
Join us for a conversation with Dr. Maria Artunduaga, an emerging leader in technology, biomedical discovery and the social impact field, as she shares her inspiring leadership journey as a physician and Latina in the male-dominated start up industry, how her company pivoted during COVID-19, and her strategies for success.
June 18, 2020
Communications for Your Career
Join AAUW CEO Kim Churches for a conversation with Nancy Racette, a leader in development consulting and executive search for the non-profit sector. Learn how the current crises impact networking and job searching, discover best practices for virtual interviewing, and get tips for crafting a resume and cover letter to get noticed.
June 11, 2020
A Conversation on Education & Equity
Join AAUW for a conversation on education and equity with Dr. Amaka Okechukwu, 2017-18 AAUW American Fellow, Assistant Professor of Sociology at George Mason University and author of To Fulfill These Rights: Political Struggle Over Affirmative Action and Open Admissions.
May 28, 2020
Social Media Advocacy 101
Social media is an effective tool to extend our reach and mobilize supporters around issues impacting women and girls. We explore best practices and resources for issues-based outreach and "get out the vote" efforts​ during the pandemic and beyond. Join us for this introductory workshop and learn how you can use social media to best support your advocacy efforts.
May 21, 2020
Secrets to Strong Writing for Professionals
Being able to write well is an important professional skill and a great way to engage people in the issues that matter to you. Whether it's through an op-ed, a letter to the editor or even a cover letter, communicating your ideas effectively can change hearts and minds and set you apart.
May 18, 2020
STEM Leadership in Online Resources During COVID-19
AAUW alumna Sarah McAnulty is a squid biologist, science communicator and founder of Skype a Scientist — a nonprofit organization that connects scientists and students around the world, even during COVID-19. Learn more about Dr. McAnulty's career journey and her amazing STEM resource!
May 12, 2020
State Legislators Roundtable Discussion
Sen. Tim Knopp (OR), Sen. Lori Berman (FL), Rep. Athena Salman (AZ) and Rep. Stephanie Howse (OH) discuss how COVID-19 has impacted how they govern, what it means for non-emergency legislative priorities and how it has exacerbated or mitigated partisan differences.
May 7, 2020
Mentorship, Sponsorship & Building Your Network
Virtual networking is an important skill in our increasingly digital world, especially now as COVID-19 limits our ability to interact in-person. Learn tips for articulating your value, building your network and maximizing the strength of your professional relationships.
April 30, 2020
Building Your Personal Brand
A personal brand is a powerful tool for advancing your career and message. It reflects how you present yourself, communicates what you value, and defines what you can bring to the table. During this webinar, you'll learn how to define your value, narrow down your target audiences, and use online resources to stand out.
April 16, 2020
Getting Out the Vote During a Pandemic
The COVID-19 crisis poses an unprecedented challenge to our electoral process. Learn about the pandemic's impact on voter access, gain key "get out the vote" and voter education resources, and identify priority policy issues facing women and families this election.
March 26, 2020
Effective Advocacy During COVID-19
The economic security of countless families is being threatened as our country attempts to contain the spread of COVID-19. In this webinar we explore how we can all safely fight for communities impacted by this health crisis.
Related