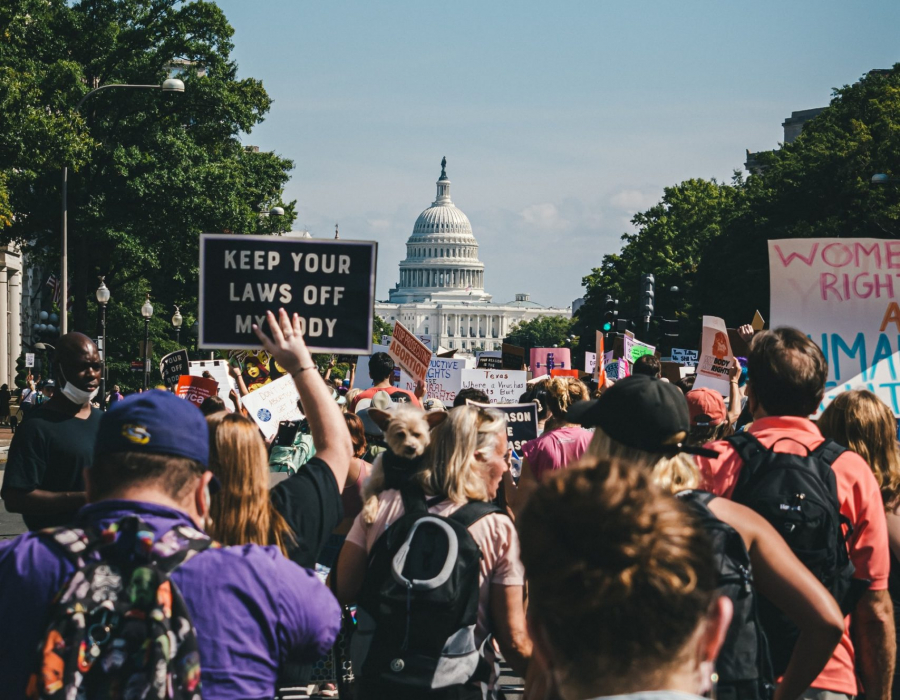 The Fight Continues
The U.S. Supreme Court's 1973 ruling in Roe v. Wade established abortion as a constitutionally protected right. However, the promise of Roe v. Wade has never been a reality for all, and abortion rights have been under attack ever since. AAUW strongly condemns the U.S. Supreme Court's decision in Dobbs v. Jackson Women's Health Organization. AAUW believes everyone has the right to make decisions about their own reproductive lives without government interference. Abortion access is vital to women's ability to control their lives, bodies and futures. Without reproductive freedom, there can be no equity.
What Comes Next
AAUW's Public Policy team is working closely with coalition partners to direct our members on the best next steps. In the meantime, here's what you can do to fight for reproductive freedom.
Support legislation like the Women's Health Protection Act (WHPA). This critical bill would take the principles of Roe v. Wade and make them federal law; unfortunately, it did not pass the U.S. Senate. As public outcry continues to grow opposing the overturning of Roe v. Wade, federal legislation would provide critical protection for the right to abortion.
Learn Where We Stand. The protection of reproductive rights—including access to contraceptive care, abortion, sexual health education and family planning services—has been an unwavering AAUW policy principle since 1977. Access to abortion is not only a fundamental right, it is critical to a woman's ability to control her life, her body and her future. Expanding reproductive services increases women's prospects of attaining economic security. Moreover, attacks on reproductive rights are especially harmful in a country that lacks policies to make parenthood and pregnancy safer, including accessible maternal health care, paid leave, child care and workplace protections for pregnant workers.
Take action in the states. Learn more about the status of abortion access in your state with the Guttmacher Institute's 2022 policy analysis. Take the opportunity to meet with your representatives on your home turf and hold in-district meetings to share your thoughts when Congress heads into recess in August.
Get Involved. Times of crisis often inspire a surge in activism, and we encourage both longtime advocates and new supporters to make their voices heard. Read more about what you can do, including contacting your elected officials, writing a letter to the editor, and engaging in community forums. Engage with the Bans Off Our Bodies coalition efforts and check for an event near you!
AAUW & Reproductive Rights
Being able to choose whether and when to become a parent improves women's well-being and fosters economic security—a crucial component of AAUW's mission. In the 1970s, the legalization of abortion led to women's increased participation in the workforce, particularly among Black women. The ability to control when to start a family has also been linked to significant increases in women's wages and increased likelihood of educational attainment. Moreover, access to abortion improves outcomes for the next generation—studies have shown that children born to women with abortion access had lower rates of poverty and were more likely to graduate college.
Access to abortion and reproductive health services, maternal health care, paid leave and paid sick days, affordable child care, and workplace protections for pregnant workers are essential for women to be able to control their lives and attain economic security. However, the 26 states that have banned or are poised to ban abortion are largely those with the lowest minimum wages, and none offer any universal forms of paid leave. Low-income women, women of color, and women with disabilities will be especially harmed as they are disproportionately likely to live in those states, and already face substantial barriers to accessing reproductive services and health care.
AAUW has fought for the protection of reproductive rights for decades, through public campaigns, legal briefs, and legislative advocacy at the state and national level. Learn more about AAUW's history and continued advocacy for reproductive freedom below.
Related
AAUW trusts that every woman has the ability to make her own informed choices regarding her reproductive life within the dictates of her own moral and religious beliefs. Tell your members of Congress to oppose any efforts to restrict women's access to reproductive health care.