Quick Insight
I was really proud of myself and filled with self-affirmation and gratitude. Being able to stand for my self-worth and to then have an employer agree to what I requested was transformative.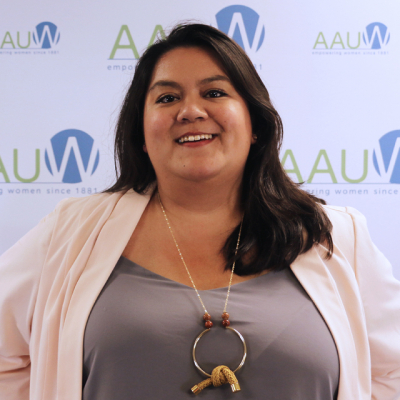 When Katie Wynne showed up for AAUW's two-hour Work Smart negotiation workshop in Washington, D.C., she thought the program was free. It is, of course, but in a way the training actually paid her — $10,000 per hour, to be exact. That's because Wynne used what she learned in Work Smart to land a job with a salary that was $20,000 higher than the initial offer.
We asked Katie to share the story of her success. Work Smart is designed to help women negotiate more effectively, whether it's for higher pay, better benefits, a raise or a promotion. It's available as an in-person workshop in many cities as well as a free e-course.
Why did you decide to attend a Work Smart salary-negotiation training?
It was so convenient for me. It was free and I realized I owed it to myself to learn how to negotiate. I had never done it before and I know it's important to get paid what you're worth.
What was most helpful to you in the training?
When you're not in the midst of an actual negotiation process, it's hard to be aware of what you need to ask. Being able to role play and learn specific phrases I could use was invaluable. It gave me confidence to be able to practice, to get comfortable, and then to think about the delivery of what I'm saying, which is just as important as the words themselves.
Talk about how you applied the skills you learned when you were offered a job.
After I was offered a salary, I said "Thank you so much, I'm so excited, but I need a few days to think this through." Ultimately, I asked the employer for more money.
They came back with: "We really want to have you, and we're never going to let money get in the way of working with the right candidate. But what you asked for was a little high. Can you come in at this level?"
Since the amount was within the range of where I needed to be — and it was $10,000 higher than the initial offer — I accepted it, with the agreement that we'd revisit my compensation after a few months.
And did they?
Yes! Three months later — I didn't even have to prompt them for it — my boss asked to speak with me and the chief operating officer. I thought I was in trouble!
Instead, they said they were pleased with my performance, so they bumped me up by another $10,000! So I was able to negotiate a total of $20,000 through the tactics and the strategies from this workshop. I never would have known you can ask an employer to look at your work product in a few months and see if there's a raise possible. I truly owe a lot of thanks to Work Smart.
How did you feel after you negotiated that HUGE raise?
I was really proud of myself and filled with self-affirmation and gratitude. Being able to stand for my self-worth and to then have an employer agree to what I requested was transformative. Making that experience available to more women — including women of color and anyone who feels they need it — is truly life-changing. Please keep doing it!
What advice would you give people who feel uncomfortable about the prospect of negotiating?
Well, the process can be weird and uncomfortable and scary, but AAUW and the Work Smart training are making it less scary. I'm not a terribly aggressive or assertive person. I tend to be quiet. I tend to advocate more strongly for others than for myself. When I told my friends about the raise I negotiated, they were in shock. They asked me how I did it, and I told them they had to do this training. You owe it to yourself. No one will fight for you as fiercely as you will.
I think it's a great way to empower others. Introduce your friends to Work Smart. It's something I am probably annoying my friends with every day! I'm like, "Hey guys, you should do this. You're gonna earn more money."
How did learning to negotiate boost your career?
It's taken me awhile to figure out what I'm passionate about. Having this opportunity to earn more in one job allowed me to save enough money to take a few months and find the career path I really loved. It put me in a position to pursue what I want to be doing for a long time — which is where I'm at right now.