Leading & Inspiring Others
Suddenly you hear young Cherokee girls talking about becoming leaders. And in Cherokee families, [now] there is more encouragement of girls.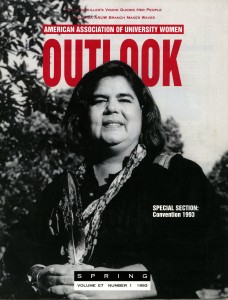 In 1993, AAUW gave our highest honor, the Achievement Award, to Wilma Mankiller, who was the first woman chief of the Cherokee Nation and recognized for her contributions toward improving the lives of the Cherokee people.
Mankiller was born November 18, 1945, in Tahlequah, Oklahoma. Her family was moved to San Francisco as part of the U.S. Bureau of Indian Affairs' program designed to relocate and urbanize Native Americans. In 1967, Mankiller participated in a protest with Native American activists who took over the vacant prison at Alcatraz Island. While in California, she also married, had two daughters, and began attending college classes, but eventually returned to her native Oklahoma.
In Oklahoma, Mankiller became involved with the government of the Cherokee Nation, beginning as director of community development. She rose through the ranks, and in 1983 she was chosen by Principal Chief Ross Swimmer to serve as deputy chief. When Swimmer left mid-term to head the Bureau of Indian Affairs in Washington, D.C., Mankiller took over as principal chief. She was the first woman ever to hold the position. She won the principal chief election in 1987 and was reelected for a second term in 1991 by a landslide margin of 85 percent. Her term ended in 1995.
During her tenure, Mankiller worked to improve the lives of the Cherokee people. She created a job center, increased the number of tribal health clinics, and brought jobs and businesses to the Cherokee jurisdiction. Summer programs for young people and adult literacy were added. President Bill Clinton appointed her to be an adviser to the federal government on tribal affairs, and later, in 1998, Clinton would grant her the Presidential Medal of Freedom.
Mankiller was also named an AAUW Woman of Distinction at the 1990 National Conference for College Women Student Leaders. But awards weren't her only connection with AAUW. The AAUW Tahlequah (OK) Branch and Susan Frusher received a 1991–92 Community Action Grant to establish a mentoring program for girls at Sequoyah High School, a boarding school for Native American children. Girls were matched with career mentors whom they then shadowed throughout the program. Mankiller assisted in the process of locating Cherokee mentors for the girls. Designed to bolster self-confidence and opportunities for Native American girls, the program was a success. In a letter in AAUW's archives, Mankiller expresses her thanks to AAUW for funding the successful mentoring project. She passed away in 2010 after a battle with pancreatic cancer.