Quick Tip
Stop doubting yourself and do it! We need to realize that we are just as qualified to do things as men are.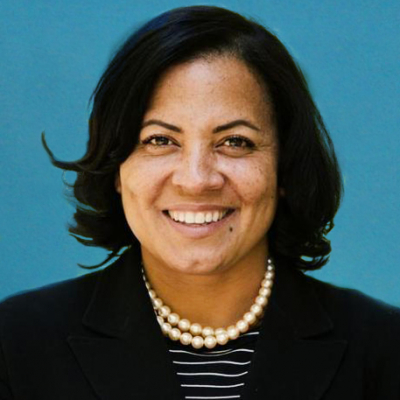 In a time of firsts for women, Rachael Rollins is among those breaking new ground. In January 2019, the 1996–97 AAUW Selected Professions Fellow became the first woman elected to the role of district attorney in Boston and the first woman of color to hold that job in the Commonwealth of Massachusetts.
"I'm very humbled and deeply grateful to the people of Suffolk County who recognized it's time for a change," said Rollins, who grew up in Cambridge.
Rollins won an astounding 82% of the vote in the general election. "Being competitive and making sure we would win was a mandate, and we put in the work to make that happen," she said.
Rollins honed her competitive edge early. As an athletic teenager, she received a full scholarship to play Division 1 lacrosse at the University of Massachusetts, Amherst.
But following her freshman year, she learned that the women's lacrosse, tennis and volleyball programs would be eliminated due to budget cuts. Yet the men's football team, which hadn't won in years, remained intact. She and a few of her teammates retained a lawyer, who got their teams reinstated under Title IX. The statute stipulates that federal funding for educational programs must be distributed equitably.
"In that moment, [I learned] how important lawyers are and how powerful they can be when they are activists working toward equity and what's right," she said. During her AAUW fellowship, Rollins conducted research on Title IX in New England. We asked her to share her insights on her career and the changing landscape for women.
Why is Title IX at risk today?
Decades ago, Title IX was commonly associated with equity in schools, employment and athletics. But in the #MeToo era, it has also become an important tool for ensuring the rights of sexual assault victims in any educational program that receives federal funding.
President Obama identified sexual harassment and violence as forms of sex discrimination prohibited by Title IX, and he provided guidelines for addressing allegations. Then, in 2017, the Trump administration rescinded that guidance. I believe that move upends all of the best practices we recognize in handling sexual assaults.
Why are we seeing such a strong uptick of women of color to elected office?
People are realizing this is our government. Even though at times it feels like certain communities are being targeted, the individuals in those communities have the right to run for office—and then set policies in place to right the wrongs they've seen.
For example, people of color are over-represented in the criminal justice system but significantly under-represented as prosecutors. Women of color make up less than 1 percent of elected prosecutors in the country! So qualified people are starting to say they won't tolerate these racial disparities any longer regarding who is arrested, who is charged, and how long they are sent away.
I was really deliberate with respect to this role. To be a district attorney, you're required to be a lawyer in good standing. I decided to run because I am qualified to do so—and I will hold firm to what I believe and make sure I look at every situation in a fair, balanced and equitable way.
What's your advice to other women who aspire to public office?
Stop doubting yourself and do it! We need to realize that we are just as qualified to do things as men are. And if there's anything I can do to help, I stand as a person who is willing to take your calls.
Related