Fighting Racism and Sexism
"If this work can contribute in any way toward providing this, and at the same time arouse the conscience of the American people to a demand for justice to every citizen, and punishment by law for the lawless, I shall feel I have done my race a service."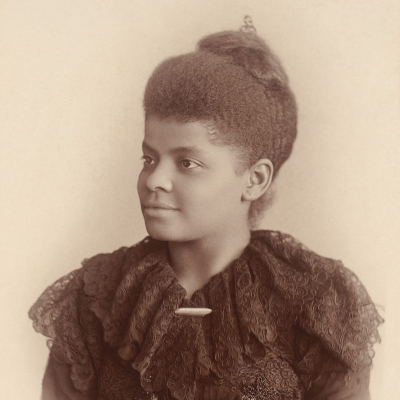 She fought tirelessly for the right of all women to vote, despite facing racism within the suffrage movement.
On August 18, 1920, Congress ratified the 19th amendment to the U.S. Constitution giving women the right to vote. But sadly, then as now, the law didn't apply equally to all. Due to the prevalence of Jim Crow laws, it took another 45 years — and the passage of the Voting Rights Act — for Black women to be able to cast their ballots.
While women's suffrage has often been associated with white women like Susan B. Anthony and Elizabeth Cady Stanton, it's beyond time for us to recognize that pioneering Black activists like Ida B. Wells were fighting a bigger battle — against sexism and racism — and faced obstacles within their own movement.
Wells, who was born a slave in Holly Springs, Mississippi, in 1862, was a prolific investigative journalist and suffragist who campaigned tirelessly for anti-lynching legislation. Her activism began in 1884, when she refused to give up her train car seat, leading to a successful lawsuit against the train company.
She took part in the first suffragist parade in Washington, D.C., in 1913, which was organized by the National American Woman Suffrage Association, as the sole Black woman in the Illinois delegation. Wells marched with this group despite being asked at the last moment to move to the back of the procession with the segregated contingent.
Motivated in part by racism within the women's suffrage movement, she went on to found and co-found a variety of civil rights organizations, including the National Association for the Advancement of Colored People, the National Association of Colored Women and the Alpha Suffrage Club.
Wells fought for equality for women and Black people until her death in 1931. But her legacy lives on, including through the writing of her great-granddaughter Michelle Duster, author of Ida in Her Own Words: The Timeless Writings of Ida B. Wells from 1893.
Today, women of color are still unfairly disadvantaged at the polls, as certain jurisdictions work to suppress voting under the guise of preventing "voter fraud." In the past 10 years alone, 25 states have put in place new voting restrictions that largely affect marginalized communities.
As we reflect on the contributions of crusaders like Wells, we can honor them by continuing their important — and unfinished — work on this milestone anniversary. For example, tell Congress it's time to pass the John R. Lewis Voting Rights Advancement Act, which would restore voting protections that were stripped away from the Voting Rights Act in 2013.
Because it is only when we can ensure that every voice is heard that we can achieve the full promise of the 19th Amendment — and turn this commemoration into a celebration.