With a critical election ahead, the Supreme Court in flux and widespread racial injustice, the stakes couldn't be higher for women in 2020. And that's not to mention an ongoing pandemic that disproportionately affects women and people of color. As we mark the 100th anniversary of the 19th Amendment and the 55th anniversary of the Voting Rights Act — two crucial milestones in giving women the right to vote — we invite you to reflect on the progress we've made and the challenges before us.
You can share your own story about contributing to AAUW's legacy and watch our webinar series, which highlights recent equity research, profiles world-changing women, and gives advice for how to effect meaningful change during this tumultuous time.
A Long Way to Go
"Even today, barriers persist that keep many Americans from exercising their Constitutional right to vote. Blatant suppression efforts — such as overly strict I.D. laws, voting role purges, restrictions on mail-in ballots and inconvenient, understaffed and limited polling places — disproportionately impact women, people of color, voters with disabilities, students and older people."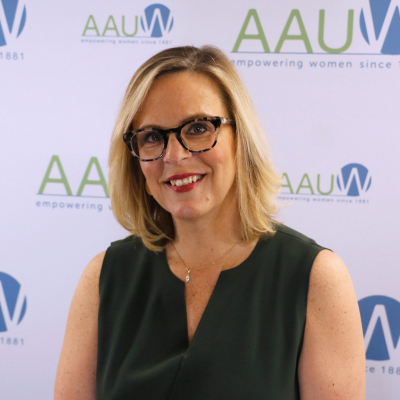 2020 Convening Series
See below for AAUW's 2020 Convening webinar series.
December 10, 2020
Working Together to Build a Diverse and Inclusive AAUW
Join Dr. Lisette Garcia, the Inclusion & Equity Committee Chair, and Sheila Amo, the Inclusion & Equity Committee Staff Liaison, to learn how to best utilize the new diversity, equity and inclusion toolkit and hear what's on the horizon in terms of inclusion and equity at AAUW.
November 19, 2020
The Microintervention Workshop
Presented by AAUW alumna Sarah Alsaidi, The Microintervention Workshop aims to increase awareness and self-reflection skills, and explain the difference between microaggressions and macroaggressions. Learn response strategies that can be used to defend against daily experiences of microaggressions. Read the original article.
November 18, 2020
Status of Latinas
Join us to hear about a new collaboration focused on the status of Latinas and the impact of the pandemic on their economic security and wellbeing. We discuss AAUW's actions to address systemic workplace disparities, increase wages, promote paid sick and family leave policies, and make health care available to all workers. Webinar sponsored by GEICO.
October 20, 2020
Women Scholars During COVID
COVID-19 has disrupted every aspect of higher education. The increase in caregiving, quarantine, social distancing and mental health challenges all reduced academic success and amplified barriers to women's career advancement. Join us as Dr. Malisch shares important research findings and actionable solutions for addressing the future of women in academia. Webinar sponsored by GEICO. Download the slides.
October 14, 2020
Programming in a Pandemic
AAUW Branch and State Board leaders join us to discuss ways to fundraise and boost awareness around issues impacting women and girls while following best practices to curb the spread of COVID-19. You'll hear from Branch leaders who have come up with creative ideas for virtual fundraising and advocacy programming.
October 13, 2020
Managing Burnout Through Self-Compassion
Sabrina Basquez specializes in workplace-related burnout and traumatic stress recovery. Join us to learn about burnout, how it decreases our professional and interpersonal effectiveness, and tips on how to start managing excessive stress through cultivating greater self-compassion. Download the slides.
October 1, 2020
Justice Ginsburg's Legacy and the Future of the Court
Ginsburg was a champion for the rights of women and girls, but what does the future hold for her seat on the bench and how will it impact AAUW's work? Join AAUW's public policy team for a discussion of the past, the future, and your role in shaping history.
September 22, 2020
Board Town Hall: Dues and Education Requirement
Board members discuss the recent notification of a prospective dues increase, share information about our racial equity and justice work, and what to expect on the AAUW voting ballot this year.
September 9, 2020
COVID-19 and the Labor Economy
Join us for a conversation with economist Diane Lim where we discuss how the ongoing pandemic has affected the labor economy and what it means for women, people of color and low-wage workers.
August 25, 2020
Policy vs. Practice
AAUW's CEO Kim Churches traces our evolution in the fight for gender equity from the 19th Amendment to the present and discusses the importance of reflecting on our own policies and practices in the effort to expand opportunities for all women.
August 20, 2020
Archeology of the Self
Join us for a conversation with Dr. Yolanda Sealey-Ruiz, AAUW fellowship alumna, professor, author, and poet. Sustaining racial literacy across the life span is possible by engaging in an "Archeology of the Self" — an action-oriented process requiring love, humility, reflection, an understanding of history and a commitment to working against racial injustice.
August 6, 2020
Conversations on Race, Equity & Inclusion
Join AAUW as we hold space for a collective journey towards gender, race, equity and inclusion dialogue led by Dr. Taharee Jackson — certified trainer of diversity trainers, Lead Equity Specialist and expert trainer, and federal EEO counselor. Download slides here. Sponsored by GEICO.
July 30, 2020
Is Your Perspective Inclusive?
Join AAUW's Sheila Amo for a discussion with Pamela Fuller, Thought Leader of Inclusion and Bias at FranklinCovey, and Dr. Lisette Garcia, Executive Vice President and COO at the Hispanic Association on Corporate Responsibility (HACR), to learn more about developing inclusive perspectives. This webinar was made possible through the generous support of GEICO.
June 25, 2020
Black Women Leading Through an Equity Lens
Join AAUW for a courageous conversation with Kimberly L. Sisnett, SVP, People at VERICAST; and Stephanie Jackson, Senior Business Resiliency Specialists Control Risk at Facebook to learn about their experiences, challenges and lessons learned in corporate leadership.
June 23, 2020
Using Tech For Good
Join us for a conversation with Dr. Maria Artunduaga, an emerging leader in technology, biomedical discovery and the social impact field, as she shares her inspiring leadership journey as a physician and Latina in the male-dominated start up industry, how her company pivoted during COVID-19, and her strategies for success.
June 16, 2020
National Board Town Hall
Hear from AAUW National's Board Leadership as they answer members' questions and discuss how we intend to advance AAUW's mission and impact through the COVID-19 pandemic and beyond.
June 11, 2020
A Conversation on Education & Equity
Join AAUW for a conversation on education and equity with Dr. Amaka Okechukwu, 2017-18 AAUW American Fellow, Assistant Professor of Sociology at George Mason University and author of To Fulfill These Rights: Political Struggle Over Affirmative Action and Open Admissions.
May 28, 2020
Social Media Advocacy 101
Social media is an effective tool to extend our reach and mobilize supporters around issues impacting women and girls. We explore best practices and resources for issues-based outreach and "get out the vote" efforts​ during the pandemic and beyond. Join us and learn how you can use social media to best support your advocacy efforts.
May 26, 2020
Virtual Town Hall
AAUW CEO Kim Churches answered members' questions live during this virtual town hall. Do you have a question about AAUW's priorities and strategies that wasn't answered in this meeting? Submit your questions to branchrelations@aauw.org. We would love to hear your insights on how to stay relevant and connected in this difficult time.
May 2020
State of the Association: Message from Kim Churches
While AAUW members can't gather in person for their spring conventions this year, they can — and should — continue to cultivate strong relationships and advance gender equity. Hear an update from CEO Kim Churches on AAUW National and ways we can all continue to work together to achieve our goals.
April 30, 2020
Mrs. America: Women's Rights, Family Values and Politics
Join us for a Conversation with AAUW American Fellowship alumna Marjorie Spruill, Professor Emerita, University of South Carolina and author, Divided We Stand: The Battle Over Women's Rights & Family Values that Polarized American Politics.
April 22, 2020
Getting Out the Vote During a Pandemic
The COVID-19 crisis poses an unprecedented challenge to our electoral process. Learn about the pandemic's impact on voter access, gain key "get out the vote" and voter education resources, and identify priority policy issues facing women and families this election.
April 14, 2020
AAUW Updates & Diane Rehm
CEO Kim Churches provides an update on AAUW's continuing work and talks with renowned radio host and author Diane Rehm about how she has managed to remain resilient in the face of challenges and loss. Listen now or read more about the conversation.
April 10, 2020
New Website Launch
AAUW is pleased to announce the launch of our new website and we hope it will help us to stay more connected than ever. Take a virtual "tour" with the communications team by watching this webinar. You can provide feedback here.
January 28, 2020
The Gender Agenda
AAUW CEO Kim Churches outlines our equity priorities for the year.
December 5, 2019
Together in 2019, Together in 2020
AAUW CEO Kim Churches talks about AAUW's latest research on sexual harassment, 2020 convenings and other strategic updates.
Your Story. Our Legacy.
We want to know more about what AAUW has meant to you.

Meaningful Moments from Members
My story begins many years ago when I was a new mother, at age 28, with a toddler and expecting a second baby. Although I loved staying at home and being a mom, there were times when I thought I would lose my mind due to the lack of any intellectual stimulation. Somehow I got invited to join the Orinda-Moraga-Lafayette branch of an organization called AAUW, which had monthly meetings, weekly intellectual discussion groups, and a fun social interest group called "Young Grads." My mind was saved and I started meeting women who would support and guide me through the next five decades of my life.
Peggy S. Cabaniss, AAUW Board of Directors
 When I fractured my leg, and couldn't even put any weight on my leg for 4+ months, my AAUW sisters jumped in to help me get to meetings, bring food, and provide flawless leadership for the branch so I could focus on my recovery and therapy.
Karen Francis, public policy chair, AAUW Missouri
One moment comes to mind from my 52 years of membership… During the 1981 (centenary) conference, as a member of the national Resources for Tomorrow Committee, my report on energy conservation consisted of using an electric chain saw to cut a pound of butter on stage.
Kathleen Wood Laurila, longtime member and 1988–89 Career Development Grant recipient
In the 1990s, AAUW rose to prominence in the media with our research reports on shortchanging girls in school. Several of us were at a women's march in DC during that time and were approached by a young woman who spotted our AAUW sign and shouted out, "AAUW — you're the ones who did the study on girls in school — THANK YOU!" That was thrilling to be recognized … in public as an organization doing such good for girls and women.
Caroline Pickens, AAUW Fund, Legal Advocacy Chair, AAUW Virginia
Please direct membership inquiries to connect@aauw.org.